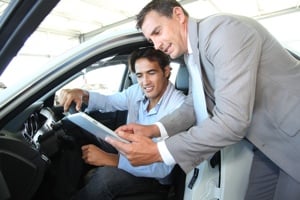 Are you an Apple iPhone person or a Google Android person? The answer to that question may influence not only the next smartphone you buy, but starting in 2014, the next car you buy as well.
The Wall Street Journal is reporting that automaker Audi is working with Google to create an in-car infotainment system based around the Android operating system. That makes Audi the latest of a slew of car manufacturers to side with one mobile OS over the other – and one of only a few to pick Google's Android.
In October, we reported here at Techlicious that Hyundai and Kia will offer Android-based navigation systems in their Genesis and Soul models. Toyota is working with Google to integrate its mapping software into its vehicles. Most automakers, however, seem to instead be siding with Apple's "iOS in the Car." Chevrolet, Ferrari, Honda, Jaguar, Kia, Mercedes, Nissan and Volvo are embracing the standard, which would mirror your phone's screen and navigation info on your car's dash. Most of these will see implementation in the new year.
Before you get too excited, though, these in-car systems will have to be highly limited in functionality to pass safety muster. The industry-oriented EE Times explains that the U.S. National Highway Traffic Administration "wants automakers to make it impossible for drivers to use some electronic functions, like text messaging, Internet browsing, and video-based entertainment or communications, unless the vehicle is stopped and is locked in park." Many of these new systems, therefore, will rely heavily on Siri-like voice-activated actions.
With both fuel economy and car reliability on the rise across the entire automotive industry, in-car infotainment systems are one of the few areas left where car makers truly differentiate themselves. But given how user-unfriendly, poorly designed and ugly in-car infotainment systems currently are, these new smartphone-inspired interfaces can't arrive a moment too soon. Best to leave software design to the professionals, after all.
[Car seller with car buyer via Shutterstock]