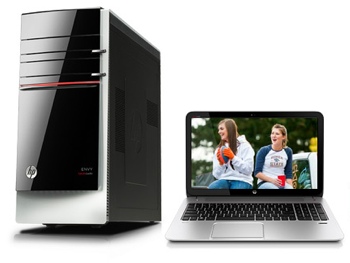 Looking for a new laptop or desktop PC but fret having to deal with the unpopular Windows 8 operating system? Well, good news according to HP: Windows 7 PCs are "back by popular demand," at least on the company's website.
Indeed, Hewlett Packard is trying to boost interest in its HP Pavilion and Envy lines of desktop and laptop Windows computers by offering a $150 discount on devices sold with Windows 7. And these aren't outdated computers from years ago—they're being built with Intel Core i7 chips, terabyte-sized hard drives and other modern conveniences. If you're militantly opposed to Win 8 and really need a new computer, this could be a great opportunity.
This is no grand, industry-wide resurgence, though—it's only one computer maker trying a new marketing angle, and only on a handful of computers. Still, it's hardly a good sign for Windows 8 that HP is publicly embracing a 5-year-old operating system to boost flagging PC sales.
Microsoft has officially ended retail Windows 7 sales, but companies are free to continue to sell computers with the operating system installed until October 30, 2014. Windows 7 will continue to enjoy "mainstream support" from Microsoft through January 2015.
HP Desktops start at $479 after savings, while laptops start at $599. To browse HP's selection of Windows 7 computers, visit the company's website.