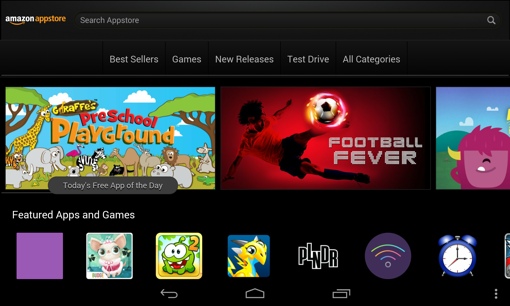 Amazon is prepared to resist Federal Trade Commission (FTC) efforts to require stronger parental control over in-app purchases and will head to court if necessary, the Wall Street Journal is reporting.
The FTC alleges that Amazon "has often failed to obtain parents' or other account holders' informed consent to in-app charges incurred by children." Indeed, the agency has received thousands of complaints from frustrated parents since the Amazon Appstore opened in 2011.
Amazon Associate General Counsel Andrew Devore responded to the complaint in a letter to the FTC.
"When customers told us their kids had made purchases they didn't want, we refunded those purchases," says Devore. He also notes that Amazon offers "prominent notice of in-app purchasing, effective parental controls and real-time notice of every in-app purchase."
Many games and apps allow the ability to receive small in-game enhancements for 99 cents or a similar token amount of money. The FTC says making these transactions is too easy for children. Entering a password once, for example, could enable near unlimited purchases for a period of time afterward.
Of course, in-app charges can add up quickly in the hands of a child. One family in England was stunned to get a bill for $1,500 worth of virtual donuts purchased by their 8-year-old son while playing a game called The Simpsons: Tapped Out. That particular shopping spree didn't involve Amazon's Appstore, but the WSJ notes that some Amazon customers did get surprise bills for "hundreds of dollars."
Earlier this year, Apple settled a similar complaint from the FTC by agreeing to refund $32.5 million to parents who were wronged. In doing so, Apple also had to agree to more stringent limitations and notifications regarding in-app purchases. Amazon says it has now updated its App Store to conform to the terms of the Apple agreement.
If your kids use a smartphone or tablet – even if they just play with yours every now and then – it's a smart idea to disable in-app purchases. For more information on how to protect yourself, check out the FTC's Keeping Up With Kids' Apps infographic or Techlicious's own How To Disable In-App Purchases guide.