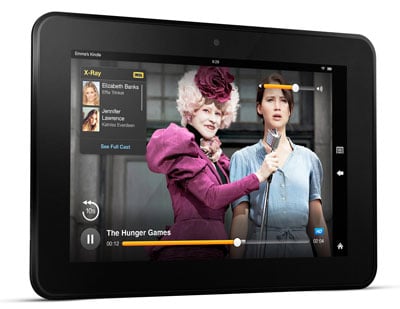 In a product category dominated by the iPad, Amazon made inroads with its first generation tablet, the Kindle Fire, accounting for as much as 14% of U.S. tablet sales, according to IHS iSuppli. Today, Amazon raises the bar with four new Android-based tablets—two larger 8.9-inch HD models and two 7-inch models, one HD and one upgraded replacement for the original Kindle Fire. Plus, there are interesting software upgrades that go across all models.
The big question, of course, is how the Kindle Fire HD 8.9" ($299) and Kindle Fire HD 8.9" 4G LTE Wireless ($499) stack up to their natural competitor, the iPad ($499).
With a larger, 9.7-inch display, the iPad has a higher resolution of 2048 x 1536, versus a resolution of 1920 x 1200 for Fire HD 8.9" models. However, when you look at pixel density, which impacts the crispness of the display, they're fairly comparable –254 pixels per inch for the Fire HD 8.9" versus 264 ppi for the iPad. So it's large a size preference.
In terms of processors, the Fire HD 8.9"model's 1.5Ghz dual-core processor is comparable to the iPad's and both have dedicated graphics processors.
The Fire HD 8.9" models get the nod with stereo speakers and an HD front-facing camera, versus the iPad's mono speaker and standard definition camera. There is no backward-facing camera, though, and the iPad sports a 5MP camera.
There's also an interesting data option for the 4G LTE model. For Just $50 for the year, you get 250MB of data per month. That may not seem like a lot, but most people will use Wi-Fi predominantly for their data. And ,when you compare it to the iPad, you'd be playing $14.99 for that same 250MB per month on AT&T or you'd have to pay a minimum of $20 per month on Verizon, though you'd get 1GB every month.
Of course, the conversation always circles back to apps and while there are now plenty of Kindle Fire apps, there's no denying that iPad still has the lead there. On the entertainment side, though, the advantage goes to Amazon's Kindle Fire products. The Amazon apps are available on a much wider range of products, making it possible to buy once and enjoy your video, music, books and games on TVs, tablets (including iPad), smartphones, game systems and computers.
Amazon builds upon that advantage with a suite of Whispersync services that make it possible to pick up where you left off—whether that's reading a book, watching a movie or playing a game.
One other advantage, all the Kindle Fire products will support multiple profiles. Using a service called FreeTime, you'll be able to choose the apps, books, games and videos that will appear for each user. Plus, you can set usage limits by activity. So you could let your child could read all day long, but games and videos could be capped at an hour.
Amazon's two new 7-inch models—the Fire HD ($199) and the Fire ($159)—both get a faster 1.2Ghz dual-core processor and stereo speakers. The HD model has a 1280 x 800 display, up from the Fire's 1024 x 600 display.
All models are available for pre-order. The Kindle Fire
and Fire HD
will ship on September 14 and the Kindle Fire HD 8.9"
and Kindle Fire HD 8.9" 4G LTE
are expected to ship on November 20.