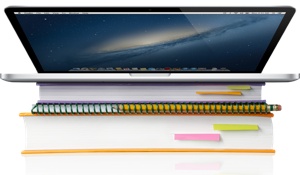 Apple products rarely go on sale, but there are two general exceptions to the rule: The company offers discounts for both Back to School and for Black Friday. And while many summer vacations have barely gotten started, Apple has already begun its yearly sale for students and educators, offering gift cards and discounts on some of its most popular and trendy products.
The biggest deals are on desktops and laptop computers like the sexy upgraded MacBook Air – not only will you save up to $200 on Apple's normal prices, but you'll be eligible for a bonus $100 iTunes gift card to help pay for new software. Buy an iPad or iPhone 5 and you'll earn a $50 gift card, great for loading up on educational apps for kids.
To take advantage of Apple's Back to School deals, you'll need to be a student (or, naturally, a parent of one) enrolled in a public or private K-12 school or college this fall. Homeschool teachers are eligible too, as are education administrators and school board members.
If you're interested in seeing what discounts Apple has available for you – and to read the deal's fine print – visit the company's Apple Store For Education.