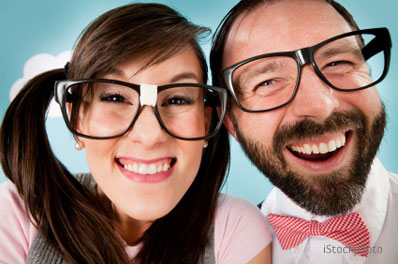 Do you have a wifi-enabled, Roku-streaming 3D HDTV in every room, juggle a dozen smartphones of every kind and color plus five different-sized tablets, and, just for kicks, like to confuse people by speaking in binary? Or do you just hand all your electronics to your kids and ask them to make the dohickey work with the thingamajig?
If you really want to know just where you fall on the geek scale, take the following quiz to find out. All you need is a pad and pencil or your stylus and Galaxy Note 2 to keep score.
Section 1: Multiple Choice
Choose the best answer that most applies to your life.
1. How do you most like to communicate with others?
A. Talking on the telephone
B. Emailing them
C. Sending a text message
D. Cybernetic Implant
2. Your DVR only has room for one more show and you can't delete any others. Which of the following do you choose to record?
A. Downton Abbey
B. Once Upon A Time
C. Mythbusters
D. Your local cable station's broken help screen that's just continuously spewing out syntax errors because you're determined to solve the problem and send them the fix
3. The last time you dressed up for Halloween, you went as:
A. Darth Vadar
B. Steve Jobs
C. A PC (and your friend went as a Mac)
D. An 8-Bit version of yourself
4. When you're not at home, your favorite hangout is:
A. Barnes & Noble
B. Starbucks
C. GameStop
D. Plugged into the Matrix
5. Your pet name for your computer is:
A. The $800 paperweight
B. Watson
C. HAL 9000
D. My preciousssssss
Section 2: Skills
Give yourself 1 point for each of the following skills that you possess:
Have a Facebook account
Have used your privacy settings on your Facebook account
Have untagged a picture of yourself on your Facebook account
Can attach a document to an email
Have forgotten to attach a document to an email even though you said you would in the email resulting a follow up email with the actual attachment
Text with smiley faces
Text with smiley faces to the wrong person
Responded to a smiley face text not meant for you with a frowny face
Walked away from a computer rather than throwing it out the window
Give yourself 2 points for each of the following skills that you possess:
Speak fluent Klingon
Can recite Pi to the 12th decimal place
Can sing every song from Monty Python and the Holy Grail. Word for word. Without a mistake.
Never attended a baseball game
Knows what Linux is
Own at least one Atari T-shirt
You browse eBay at least twice a day.… looking for a working Commodore 64
You've tried to move a can of soda with your mind
You've solved the Rubik's Cube… without removing the stickers or breaking it apart
Syncing your family and friends' new smartphones to their email
Double Points: Avoiding syncing your family and friends' new smartphones to their email
Section 3: Acronyms
Write down what each of the following acronyms stands. Give yourself 1 point for each acronym you actually know. (No Googling!)
ATM
DVR
USB
HTML
CRT
AFK
IP
XML
DVD
RAM
VOIP
CDMA
LOLROTFL
Scoring
Now that you're done, here's how you can score yourself.
For Section 1:
1 point for every A
2 points for every B
3 points for every C
4 points for every D.
Total that score. Then add up your points from Section 2 and Section 3.
Now add all 3 sections together for your final score. The chart below will tell you how you rank amongst geeks!
Score Your Geek Factor
0-5 Your modem still makes sounds when you dial-in to your AOL email account.
6-15 The only iPod you own doesn't have a touch screen.
16-30 You're an average geek who owns an Iron Man flash drive.
31-40 You wish they'd make wallpaper out of dry erase boards.
41+ You are King or Queen of the Geeks. All shall bow before your supreme knowledge of making computers talk to printers.
How well did you score? Let us know in the comments!