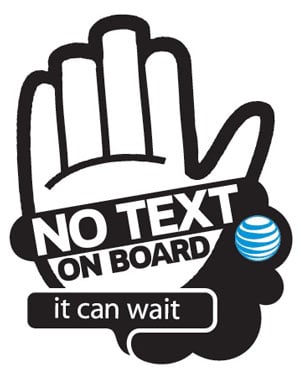 We all know that texting and driving is dangerous, but did you know that people who text and drive are 23x more likely to be in a crash?
I got to experience firsthand what it's like to text and drive by sitting in AT&T's Virtual Texting-While-Driving Simulator. While driving around a virtual city, you receive text messages on a cellphone mounted next to the dashboard, with questions like "What would you like for dinner?" or "Could you pick up a pizza on your way home?" – you then need to respond while avoiding running red lights and crazy drivers, easier said than done. The simulator tours around the country and will be in over 200 locations by the end of the year. Or, you can check it out online at itcanwaitsimulator.org.
The AT&T Drive Mode App
In support of the "It Can Wait" campaign, AT&T has launched a free app for AT&T customers on both Android (free in Google Play) and Blackberry (free in Blackberry AppWorld) that once enabled, detects the speed of your vehicle. Start driving over 25 MPH, the app will auto-reply to any incoming text messages letting the sender know that you're driving and will respond once it's safe to do so.
There's a number of other materials that AT&T has developed worth checking out including a ten minute documentary and teen-developed materials to educate their peers on the dangers of texting and driving. You can check out everything that AT&T is doing at their It Can Wait website.