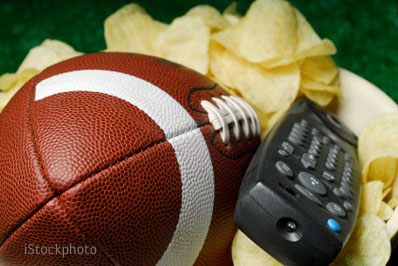 Super Bowl XLVII will be played this Sunday, February 3rd, and even if you aren't a football fan (go Ravens!), it's a great excuse to have a party.
Football food is the perfect combination of comfort food and bar food, with a mix of hearty dishes like chili, and appetizers like chicken wings and bacon-wrapped bacon. When planning any meal, the web can be a wonderful resource for ideas and inspiration. Several sites are all spruced up for the big game with menus and recipes to make your Bowl party a real winner.
Food and Wine's Ultimate Super Bowl Party Planner
The Ultimate Super Bowl Party Planner site has everything broken down into game night favorites with dozens of recipes for each item, including ribs, wings, burgers, tacos, chili and brownies. Not every recipes screams football (scrambled egg and swiss chard tacos), but the variety may have you cooking more than you had planned.
I was going to go with a couple different chilis, but now I'm thinking I need ribs. Honey-Glazed Baby Back Ribs with Whiskey Marinade, anyone? Includes Chef Michael Symon's Super Bowl menu, complete with his sophisticated take on the humble Jello shot, and a mouthwatering chili recipe.
Rachael Ray
Rachael Ray's site offers up nearly 30 tasty suggestions for Super Bowl Sunday, with classics like onion rings and spinach dip, and an unholy alliance between potato and nacho, called Nacho Spuds. I think I'm adding her Sticky Chicken Wings with Blue Cheese Dip to my menu, because you have to have wings.
Epicurious' Super Bowl Party Central
Recipe behemoth Epicurious' Super Bowl Party Central is similar to Food and Wine with their many recipes collated under various game friendly food groups, like dips & salsas, wings and food-on-a-stick. What sets them apart is the The Ultimate Nacho Generator. Scroll through their nacho options, mix and match, then dig in. It's the Hail Mary of football food. I think I may have to add nachos to my chili and ribs.
Epicurious also has a section on great party beers, the best chips and a testimonial from Packer Ryan Pickett on just how much food it takes to feed a defensive end (not as much you'd think). New York's Meatball Shop also offers up some tips and recipes on the classic meatball.
NFL.com
NFL.com has its own vision of the Super Bowl menu with a New Orleans approach, since the game will be played at the Superdome in the Big Easy. You can start your day with beignets and serve you guests spicy Cajun mac and cheese. NFL fans and staff also chimed in and offered up their recipes for homemade jalapeno poppers and bratwurst.
Untappd
The Untappd app is perfect if you are watching the game at home, and you want some great brews to go with your (now huge) menu. It will tell you what beers are trending and what beers are similar to the ones you already like. (Like Innis and Gunn? You might also like Iron Joe.) Many of the beers come with descriptions that can help with food pairings.
Untappd will also tell you where you can find your preferred beer in your neighborhood. Also, if you aren't hosting and want to find a local pub to watch the game, Untappd will hook you up.
Untappd is free at Google Play and the iTunes Store.
Whew, that's a lot of nacho recipe resources, but remember, Super Bowl is easily an all-day event! If you are looking for more inspiration, check out our Guide to the Best Food and Recipe Apps for iPhone and Android.