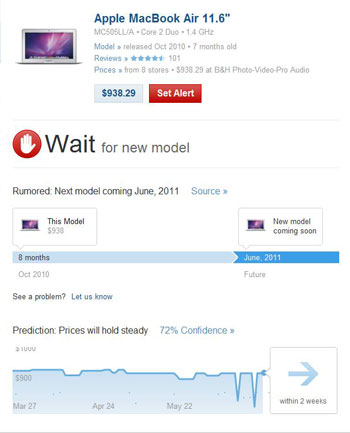 I'm the resident tech expert for my friends and family, so I'm always being asked for advice on what to buy and when they can get the best deals. Knowing their needs, it's pretty easy to determine what to suggest, but the when is a little trickier. That's the question Decide.com answers.
Launching today, Decide provides a "buy," "wait for price drop" or "wait for new model" rating on laptops, TVs and cameras from all of the major manufacturers and many of the smaller ones.
For instance, take the Apple MacBook Air. Its rating is "wait for new model" because it's rumored that a new model is coming later this month. Want to see the source of rumors? There's a link to the story or stories.
On every product page there's a timeline showing past, current and predicted future models, plus a star rating, the release date, and full specs.
You'll also find the highest price, lowest price, average price and a prediction on where the price is going — up, down or holding steady —a long with a confidence rating on the prediction. In the case of the 11-inch MacBook Air, Decide is 70 percent certain that the price will hold at $1,499.94.
You can set an alert to notify you when the price changes, but there is no way to customize notifications only for price drops.
If you're not sure which laptop, TV or camera to buy, you can narrow your selection based on specs. For instance, you can choose screen size, processor, RAM, brand and price for laptops. Then you can scroll through and see which models have a buy rating and pick from among those.
Decide will be most helpful for those that already have a product in mind and are looking for the best time to buy. I know I'll be pointing people to the site along with my recommendations.