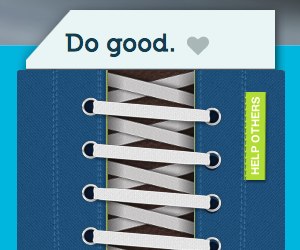 When we want to get rid of our old unwanted lamps, cargo pants, and Cosby sweaters, we donate the items to a charity like Goodwill. It's a feel good act that offers two major benefits – our closets get a bit cleaner, and Goodwill uses the proceeds to fund charity work in our neighborhood. The only hassle is getting the clothes from your closet to the Goodwill dropoff location.
Or, at least, it used to be a hassle. Online auction site eBay has teamed up with Goodwill to launch Sell It Forward, a new program designed to help you unload your unwanted clothing and raise money for charity without ever leaving home. And it gets better. When you use Sell It Forward, you get a portion of the sale price of your clothes in cold hard cash.
To get started, you need to request to be included – a task as simple as giving eBay your email address. Once your account has been processed, eBay will send you pre-paid mailers for you to send your clothes, shoes, and handbags to Goodwill. The charity organization will then list your items on eBay, and if anything sells in 14 days for $10 or more, Goodwill will split the proceeds with you right down the middle. If an item doesn't sell or is unusable, you'll instead get a donation receipt for your taxes. With this program, even if you lose, you still win.
The Sell It Forward program is available only to residents of San Francisco, San Mateo, and Marin County in California on day one, but eBay says it "hope(s) to expand to additional areas soon." Registration is open to everyone, and as soon as the mail-in service is available to you, the company will let you know. So why don't you head over to eBay, do your feel-good deed of the day, and get a little bit richer for it?