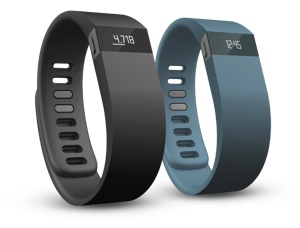 Introduced last week, the Fitbit Force is half activity tracker and half smart watch. And, as you can see in the photo, it looks sexy as hell.
The Fitbit Force combines the guts of the Fibit Flex, our pick for best activity monitor, with a display, making it look like a futuristic watch. Like the Flex, the Force measures the number of steps you take, the distance you've traveled, the calories you've burned, how long you've been active and even the number of floors you've climbed on stairs. This lets you set daily activity goals for yourself, which the Force will help you track in real-time right there on your wrist. You can also connect the Force to your computer, iPhone or Android smartphone device.
The Fitbit Force also has some serious smart watch cred. The built-in sleep alarm is silent, gently waking you through vibration for a better night's sleep. If you own an Apple iPhone 4S or later running iOS 7, you can also receive incoming call notifications on your wrist. You don't get a full smart watch feature set – you can't make calls on it like you can with the Samsung Galaxy Gear. Then again, the Force at $129 is priced way lower than the $299 Gear, and the battery lasts way longer too (as long as 7-10 days, according to Fitbit).
The Fitbit Force currently available for pre-order on fitbit.com.