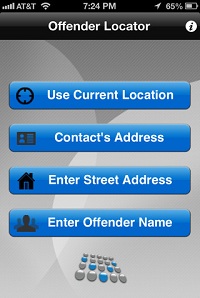 Parents worry. It's an unspoken part of the parenting role. While Halloween can be wickedly good fun, it also brings about a host of potentially anxious moments for parents. Thankfully, there are apps to help put safety first for our little ghouls and goblins.
Perhaps every time you hear a child luring or abduction attempt on the local news, you take a mental note to look up if there any registered sex offenders in your neighborhood. For peace of mind, check out the Offender Locator app by ThinAir Wireless, for $ .99 which was just updated in September. You can search by a street address (like your home), or search by a contact's address (like for the address of your child's friend in case s/he's going trick-or-treating around a friend's neighborhood). You can also search by your current location (nice if you're driving across town trick-or-treating) or by an offender's name. You can see a list or map, and it offers one-click access to share the info you find via email or via social media.
Or, if you're looking for peace of mind while your child trick-or-treats on her own with a group of friends. Is she following the agreed-upon route? Did she get where she said she was going? Amber Alert GPS Parent can help you track your child's location, and offers customizable alerts to let you know if she's staying within a boundary you've set, or even approaching the home of a registered sex offender. Amber Alert GPS Parent is available for FREE on iOS or Android.
There are also location tracking services available from your carrier. For $5 per month, Sprint will let you locate up to four phones with its Family Locator service. AT&T's Family Map service locates two people for $9.99 per month or five people for $14.99. With the Verizon Family Locator ($9.99 per month), you can set up location-based alerts, in addition to locating anyone on your Family Share plan. And, T-Mobile recently added its FamilyWhere service, which enables you to track up to 10 mobile devices.