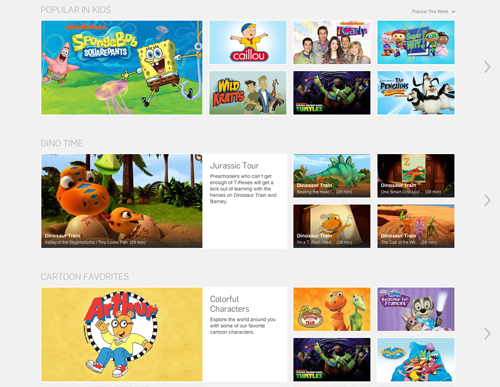 More and more consumers, including kids are consuming streamed TV content through the web or on internet connected devices, in fact 162 million of them in September according to numbers just released by Neilsen. So it shouldn't come as a surprise that Hulu is capitalizing on this trend by launching Hulu Kids, a brand new section within Hulu Plus ($7.99 per month).
Hulu Kids curates both current and past season episodes from popular Nickelodeon, PBS and Lionsgate shows like "Teenage Mutant Ninja Turtles," "Dinosaur Train," and "SpongeBob Squarepants." A total of 43 shows have been included to date, with more expected in the future. All of the kid-focused content can be found under a "Kids" link located in the "Browse" tab off the Hulu homepage.
It's great to see the shows grouped into age appropriate sections starting with 2-4 year olds, up through 8-10 year olds. Themed categories have also been created, such as "Dino Time" for li'l dinosaur lovers and "Cartoon Favorites" that aggregate a variety of TV shows like the "Penguins of Madagascar" and "Care Bears." Based on your child's viewing habits "Shows you Watch" could become an easy first stop to find your kid's favorites.
My favorite aspect of Hulu Kids is that all of their content is commercial-free, so you even if you're watching with your kids, you don't have to worry about any ads that may appear during the show. (It's important to note that Hulu Kids beyond the shows is still ad-supported.)
Hulu Kids can be streamed online and Sony Playstation 3 owners can now stream Hulu Kids content to their TV using their console.
If you're interested in Hulu Kids but not currently a Hulu Plus subscriber, you can sign up for a one week trial.