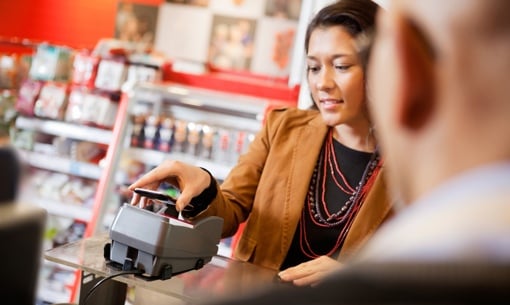 Could a long awaited feature finally be coming to the iPhone this fall? According to the Financial Times, Apple is working with chipmaker NXP to build near-field communications (NFC) functionality into its next iPhone device.
NFC has a number of applications. One of the most compelling is "tap-to-pay" – a feature that would allow for you to make payments at stores via Google Wallet (and other competing services) simply by tapping your phone to a terminal. NFC is also used to easily "tap-to-pair" phones with accessories like headsets.
Most Google Android devices already have NFC functionality built in, and have for some time. Apple has long resisted including the popular NFC in its phone, favoring its own technologies instead.
The Financial Times report doesn't reveal whether NFC technology will be built in to the coming iPhone 6, expected to be announced on September 9, or in a later model. Neither Apple nor NXP has confirmed the well-sourced rumor.
[Woman paying with NFC via Shutterstock]