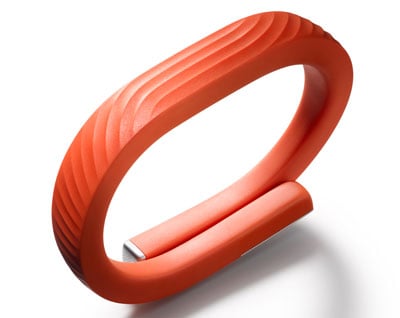 There's a lot to like about the current crop of fitness and activity trackers available on the market today. They help give you a better view of your so-called quantified self; how much exercise you get, how well you sleep, and why you should even care.
But there's also a lot they don't do—even my pick for best activity tracker, the Fitbit Flex. So when I sat down with Jawbone to see their new UP24, I was happy to share my list of "wants."
I wanted the UP24 to be able to sync wirelessly over Bluetooth, without having to take the end off of the band and plug it directly into my phone. It does via Bluetooth 4.0 – in the background – so you don't even have to think about it. This makes it really easy to see your data when you want to.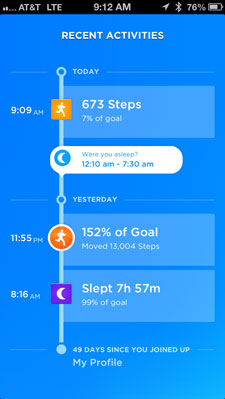 I really enjoy seeing my sleep data; how long I slept and how much deep sleep I got, but I want to know more. I'd like to understand how these sleep patterns affect me during the day. And I also want a way to record my sleep if I forgot to press the band and turn it into sleep mode before turning out my light. The UP24 does these things too, thanks to the new Up 3.0 app. If you forget to put the band in sleep mode, the app will ask you the next morning; "did you sleep from 11pm to 7am?" and you can manually log your sleep.
Overall, the new UP 3.0 app is redesigned to give you a better sense of yourself. Jawbone's Travis Bogard told me to think of it as the "internet of me, with you at the center." The updated app will give you actionable data so you can see your daily habits and set tools to motivate yourself. It does this by sending personalized notifications to you phone, so if you're the person who turns off notifications on apps, make sure this one is enabled.
It will send milestones, or let you know if you're nearing your daily goal as a way to motivate you. It will also give you prompts via "Today I will." They're small goals that help you make progress throughout the day. These will be related to how much water you log that you drink, or how much sleep you're getting. Think of it as a nagging mother reminding you to not stay up quite so late.
Finally, I wanted an LED screen on the band to see my data—unfortunately not a feature of the new UP24. In fact, the water resistant band looks almost identical to the original. Including the fact that you still need to take off the end cap and use a dongle to charge the device via USB.
The UP24 is available starting today in two colors; onyx and persimmon, for $149 on jawbone.com. This is $20 more than the original, but wireless syncing is well worth the extra money.
The UP 3.0 app is available to UP and UP24 users starting today, though the app will only be available for iOS. An Android version is in the works.