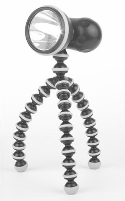 We've all been there—hand stretched out, flailing blindly to find that earring/toy/magazine that fell frustratingly behind the couch. And, as you know, a flashlight's beam only illuminates those areas where your hands can direct the light, which isn't a big help much of the time.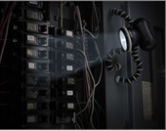 The playfully named Joby Gorillatorch is a bendy light source that solves this problem with its on three flexible legs and magnetic feet: It attaches to almost anything and stretches to light all those hard to reach areas. Got a flat tire at night or need to flip a switch on the fuse box in the basement? Gorillatorch is your friend in need.
The Gorillatorch is an LED flashlight with a dimmer that can extend battery life from 20 hours up to 80 hours. It takes three AA batteries, is eight inches tall and weighs less than nine ounces, which makes it easy to tote around.