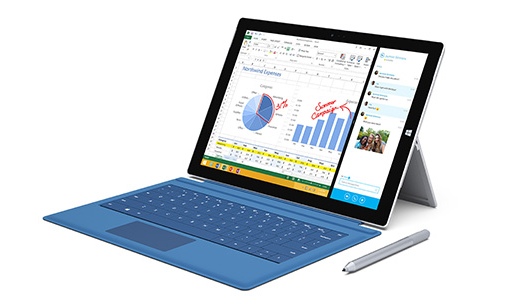 Microsoft is tripling down on its struggling Surface Windows 8 tablet. The company introduced the 12" Surface Pro 3 at a major event in New York today, suggesting its latest, largest iteration has the necessary punch to replace your laptop.
"So many people carry both a laptop and a tablet but really want just one device that serves all purposes," says Microsoft Surface Corporate Vice President Panos Panay. "Surface Pro 3 is the tablet that can replace your laptop — packing all the performance of a fully powered laptop into a thin, light and beautifully designed device."
The new Surface Pro 3 is thinner and lighter than its predecessor, cutting its depth all the way down to 9.1 mm. But that tiny profile holds a lot of internals: a fourth-generation Intel Core i3 (upgradable to i7), 64GB of SSD flash storage (upgradable to 512GB), 4GB of RAM (upgradable to 8GB), 5MP front and rear cameras, a 9-hour battery, a USB 3.0 port, microSD card reader and Dolby stereo speakers. And, of course, it all hides behind a 12" ClearType Full HD touch display.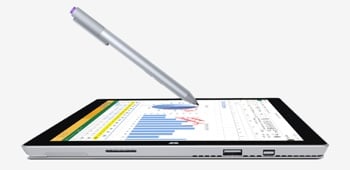 Microsoft also introduced a neat new accessory for the Surface: the included Surface Pen. With a click of the pen, the Surface Pro 3 will launch a fresh page in OneNote, allowing you to use the pressure-based stylus for a "more natural writing experience." Microsoft's cover/keyboard Surface Pro Type Cover 3 is available for an extra $129.99, though the company says previous versions of the Type Cover will be compatible if you're already a Surface customer.
Previous generations of the Surface Pro failed to excite consumers, or for that matter, myself. The original wasn't especially sexy or intuitive to use. The Surface Pro 3 definitely has a lot of nice upgrades, though, and Windows 8 has gotten a lot better over the last few years. Techlicious's own Suzanne Kantra went hands-on with the new Surface Pro 3 and we'll be publishing her thoughts on the device soon.
The new Surface Pro 3 will go on pre-order on midnight, May 21 via Microsoftstore.com. Prices start at $799.