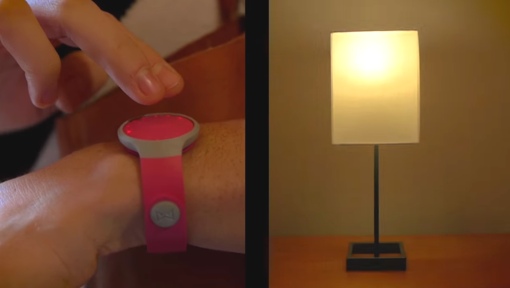 The Misfit Flash sleep and activity tracker first caught our eye as an inexpensive way to get a new fitness effort off the ground. This spring, the simple $50 device is about to get a killer new feature: It's about to double as remote control for your smart home and phone.
Much of the Misfit Flash's new functionality is thanks to the automating IFTTT app – it connects your tracker to over 160 IFTTT-compatible devices and services (including your Android Phone, Facebook and your location). Because the Flash senses your sleep patterns, it can crank up your home's heat via your Nest thermostat or start your morning pot of coffee when you're about to wake up. It can interface with and control the August Smart Lock, the new Misfit Bolt LED smart bulbs and Logitech Harmony systems. It can even be set up to interact and control your smartphone – you can use the Flash's lone clickable button to start and stop a Spotify playlist or send messages through the Yo app.
While this functionality for the Misfit Flash is new, the concept of turning activity monitors into smart home devices is not. The Jawbone UP, for example, has Works with Nest certification for working with smart home devices. And Fitbit devices have been compatible with the ultra-customizable IFTTT for some time. It's a natural fit for the technology.
If you'd like to learn more about the new Misfit Flash smart home features, check out the brief YouTube video below. You can also check out Techlicious's past coverage of the Flash, and our other picks for the 5 Best Fitness Trackers for $50 or Less.
[Image credit: Misfit]