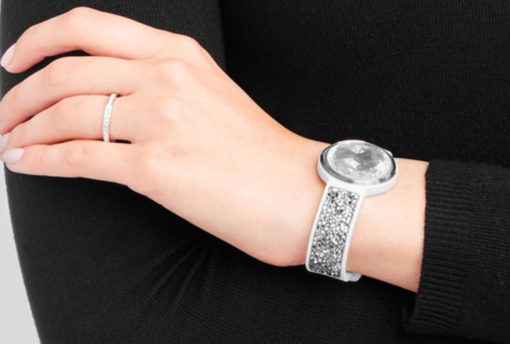 Looking for a classy, fashion-conscious take on activity trackers? Misfit, the company behind the Shine line of wearables, today introduced its brand new Swarovski Shine collection, including a solar-powered version that does not require wired charging or changing batteries.
The collection, unveiled here at CES 2015, introduces two new types of Shine hardware. The first is a clear, cut Swarovski crystal; the second is violet in color. The violet Swarovski Shine uses "energy crystal technology" to allow for solar charging on the small surface of the device. Both new Shines fit into existing Misfit straps, though you'll likely want to mount these on a matching crystal-encrusted bracelet, wristband or pendant.
Like the standard Misfit Shine, the new Swarovski Shine tracker tallies your steps taken, distance traveled, calories burned and sleep quality and duration. Information is sent wirelessly via Bluetooth to the Misfit app on your mobile device, allowing you to monitor your daily and long-term progress. The crystals are waterproof to 50 meters, and each Swarovski set includes a silicone band for use in the pool or shower.
Misfit's new Swarovski Shine collection is currently available for pre-order in the U.S. through misfit.com. The Swarovski Shine Slake bracelet set will run you $169.99; the Swarovski Shine Piofiora wristband set retails for $199.99; and the Swarovski Shine Vio pendant set is $249.99. Accessories are sold separately as well.
[Image credit: Misfit]