The Motorola Droid Bionic, announced at CES, is a smartphone that provides cutting-edge speed both on the phone, with its dual core processor, and over-the-air on Verizon's 4G LTE network. That speed, together with the Droid Bionic's high-resolution, 4.3-inch screen, positions it to be one of the most popular phones for 2011.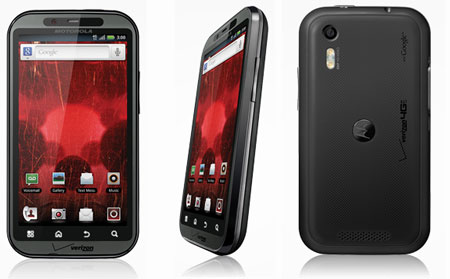 Like the Motorola ATRIX, the Droid Bionic's NVIDIA Tegra dual-core processor runs at 1GHz, though it has 512MB of RAM versus 1GB on the ATRIX. But don't be disappointed, that should be plenty for it to power through most normal phone activities, and even handle graphics-heavy video and gaming.
To further position the Droid Bionic as a phone for media junkies, the 4.3-inch qHD screen will provide 960 x 540 resolution, much higher than the 854 x 480 resolution of the Droid X it replaces. In fact, the Droid Bionic's display resolution is just below that of the iPhone 4 (960 x 640). You will also be able to stream or mirror your phone's content onto the HDTV in your living room in full 1080p.
The Droid Bionic doesn't skimp on storage, either. It comes with 16GB onboard and supports an additional 32GB through its microSD card slot.
As with most new high-end smartphones, the Droid Bionic has both front and rear-facing cameras. The front camera is only VGA resolution (.3MP), which is a step behind some of the other new phones that are offering 1.3MP cameras for video chat. The rear camera is 8MP, has auto focus, an LED flash, and will capture 720p video. We won't know about picture quality until we have a chance to test it.
To power all this goodness, the Droid Bionic comes with a 1930mAh battery. For comparison, most other smartphones have batteries in the 1500mAh range. What this will mean for real-life battery duration we'll have to wait and see.
The main trade-offs for all these features are the weight (5.5oz) and size (2.63" x 4.95" x .55"). Not bad considering what you get.
The Droid Bionic will ship in Q2 2011 with Android 2.2 and support for Wi-Fi mobile hotspot. Pricing has not yet been released.