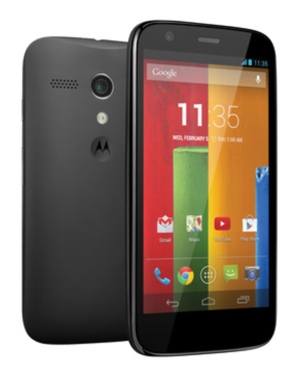 We've talked a lot about cell phone trends here on Techlicious. One major trend has been towards larger smartphones or phablets. The first iPhone had a 3.5-inch screen; now it's not unusual to see devices like the Samsung Galaxy Note 3 sporting a 5.7-inch screen. But Google is pioneering a far more interesting and important trend: less expensive, off-contract phones like the Nexus 5 ($349).
Today, that trend toward affordable phones continues with the launch announcement of Motorola's Moto G Android smartphone for the stunningly low off-contract price of $179. The Moto G goes on sale this week in Brazil and parts of Europe, with the device is slated to arrive in the U.S. soon after.
The Moto G comes pretty well featured for a device a third the price of a new Apple iPhone 5S or Samsung Galaxy S4. It boasts a 4.5-inch HD display, a Qualcomm Snapdragon 400 quad-core processor and 8GB of storage (you can get a 16GB version for just $20 more). It also offers a pure, skin-free Android 4.3 experience, which will update to 4.4 KitKat "at the beginning of 2014"–a promise Motorola should be able to keep considering its owned by Google.
The Moto G phone is clearly designed to bring an affordable smartphone experience to the rest of world. But those of us here in America can benefit as well, especially if you're looking to replace a broken, lost or stolen smartphone without extending your contract. It could also wind up being a great inexpensive first smartphone for kids – remember, both Android 4.3 and 4.4 have some pretty robust parental controls.
The phone will be available for purchase on Motorola.com and via traditional outlets this coming January.