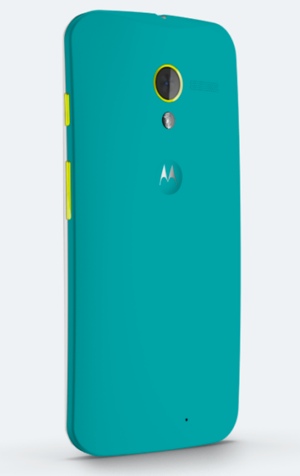 Good smartphones, it seems, are getting cheaper very quickly. The Wall Street Journal is reporting that Google has dropped the price on its popular Motorola Moto X Android phone to just $399 off-contract. The company's less-expensive $179 Moto G, meanwhile, will drop all the way down to a stunning $100 off-contract.
These devices may not be what you'll want to hold on to for the next two years. They are, however, solid picks for an "oops, I just dropped my last phone in the toilet but I really can't get a replacement for it on-contract" phone.
Google made quite the push to sell both these devices this holiday season – the Moto X, for example, was aggressively priced at $349 at one point. Even though the price has come up slightly, the Moto X is a really good deal if you want an incredibly sturdy and stylish off-contract phone. And let's be honest here – style is really the best selling point of the Moto X. Motorola's MotoMaker website lets you design your own custom Moto X phone in a dazzling array of color combinations. There's even a bamboo case if you want to go really unique, though that feature has a $100 upcharge. It's not iPhone 5S-stylish, but it's also not that expensive.
It's not the best time of year to buy a smartphone. We're only days away now from the Consumer Electronics Show, one of the biggest events of the year for smartphone makers. And we already know the Samsung Galaxy S5, sure to be one of 2014's most talked about phones, is only a few months away from being announced. Hold out if you can. But if you've got a special circumstance that requires you to grab a new phone off-contract, it's hard to argue with the $100 Moto G. Buy it, use it for a few months, and then trade it in to get some of your money back.
If you need a more powerful off-contract phone, I'd probably side with the $349 off-contract Nexus 5 over the Moto X, simply based on price. But you can't deny: That turquoise and yellow phone looks snappy if you're willing to pay the extra $50 bucks for it. And who knows, maybe a more stylish phone will make you feel less bad about your old one's watery grave.
You can create and purchase your own custom Moto X through the Moto Maker website at http://www.motorola.com/us/motomaker. (The phone is also available in boring black and boring white, if you insist.) The $100 Moto G, meanwhile, is currently available at Best Buy and at Verizon starting next week.