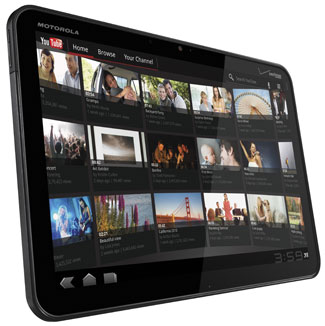 This is the year of the Android tablet and leading the pack is Motorola's Xoom. It will be the first tablet to run Android 3.0 Honeycomb, the version of Android built specifically for tablets.
The details on Honeycomb are still light, but we know that the user experience has been improved for features such as widgets, multi-tasking and browsing. And we saw some of those improvement during our demo of the Motorola Xoom.
The Xoom browser supports multiple tabs, videos in the browser window and incognito mode, which hides your browsing history. Google Books comes standard, and your picks from its library of 3 million books is synced to your Google account. Google Maps also gets an update with enhanced gesture control and faster rendering, thanks to the Xoom's fast processor.
Speaking of the processor, the Xoom's is best in class, an NVIDIA Tegra 2 dual-core processor running at 1 GHz. It has 1GB of RAM and 32GB of onboard storage, plus microSD support for up to an additional 32GB.
There's a 10.1-inch widescreen HD display (1280x800), which has the same 16:9 aspect ratio as an HDTV so no bars. It can also play 1080p video through its HDMI output to watch on your TV.
Rounding out the package. the Xoom has a front-facing 2MP camera for video chats over Wi-Fi or 3G/4G LTE, as well as a rear-facing 5MP camera that captures video in 720p HD. It features a built-in gyroscope, e-compass, accelerometer and adaptive lighting for new types of applications. And in a first for a tablet, the Xoom will have a barometer—that should make for some pretty cool weather apps!
The Motorola Xoom will launch as a 3G/Wi-Fi-enabled device within the next three months, with an upgrade to 4G LTE by this summer. It will feature mobile hotspot capability with connections for up to five other devices. Pricing has not been set.
With all of these features and a weight of 1.6 lbs, the Motorola Xoom is the CES front-runner for the title of "iPad Killer".