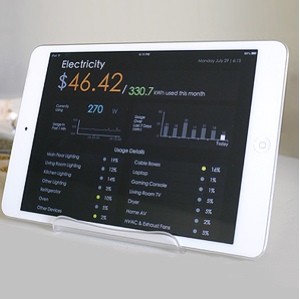 I consider myself pretty up-to-date on most features of my electronic devices, but there's one aspect of them that remains a perpetual mystery: the amount of electricity they suck out of my wall outlets. I can make educated guesses – my refrigerator probably eats up more juice than my laptop, for instance. But in the current age of hyper-connectivity, there has to be a way to know for sure.
Well, it turns out that there is a way to measure to itemize your electricity use – or, at least, there will be soon. Accessory manufacturer Belkin has begun testing a new device called the Belkin Echo Electricity that measures the unique electromagnetic signal emitted from everything you plug in to a wall outlet, giving you the rundown on exactly how much electricity each gadget and appliance of yours uses in one convenient place.
According to Belkin, the device has many uses beyond simply sating your lust for data. The Echo Electricity "can show a homeowner or building manager where electricity is being wasted, which devices need replacement or repair, and can also provide valuable insight into patterns of use and occupancy, enabling other valuable applications such as home security or assisted living. The data can also provide feedback to home and building information systems to make sure efficiency 'just happens,' without the need for human intervention."
The Belkin Echo Electricity is still in the testing phase, but its engineers are making good progress: It's able to itemize about 90 percent of the typical electric bill. Ultimately, the technology is expected to be able to tell different models of appliances and even different light bulbs apart based on their electromagnetic signatures. You'll be able to know for sure if you left for vacation with the iron on – and you'll know exactly how much that mistake will cost you on your next utility bill. You can even hunt down and unplug all those nasty appliances pulling large phantom loads.
Ideally, by knowing more about how you use electricity, you'll be tempted to be more efficient about the way you use it. Just as importantly, you'll be able to know exactly what all wasted electricity is costing you. We might not all be eco-warriors, but the joy that comes from a lower utility bill is universal.