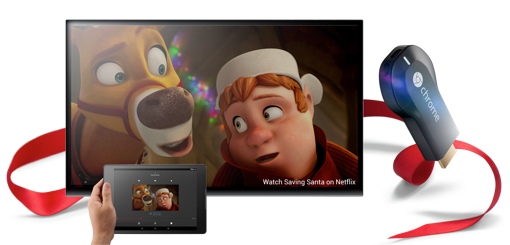 Trying to find the perfect gift for that special someone on your list this holiday season? You might want to consider buying a streaming media box like Roku or Google Chromecast. According to research from Parks Associates, they're one of the "it" gifts of the holiday season: 25% of consumer electronics purchased as gifts so far this year were streaming boxes.
What accounts for the surge in popularity of streaming? Parks Associate's Director of Research Barbara Kraus says that falling prices are a major factor. "In 2013, 46% of Google Chromecasts and 37% of streaming media players, such as the Roku 3 and Apple TV, were purchased as gifts. The two new streaming sticks this year — the Roku HDMI Streaming Stick and the Amazon Fire TV Stick — have similar functionality as the regular streaming players at a much lower price point."
Trying to decide which of the many boxes available to buy? Roku is still the most popular streaming box, though alternatives are quickly gaining stream. The myriad Roku boxes (including the $49.99 Roku Stick) now make up about 29% of all streaming media devices, down from 46% a year prior. Google Chromecast accounts for much of the shift: In its inaugural year, the dongle captured 20% of the market, beating out the long-popular Apple TV (now 17%, down from 26% in 2013).
Which device makes the best gift, though? If the person on your list owns an Android phone, the Google Chromecast is a slam dunk. It offers easy phone mirroring, cool new family games and a low MSRP of $35. Note that its use requires a newer television with an HDMI input. If the recipient has an older television, the $49.99 Roku 1 is a good choice – it works with both HDMI and composite inputs. Apple TV may be a tempting purchase for iPhone owners, but at $99, it's the most expensive streaming box of the bunch. Besides, a new version of Apple TV is widely expected for release sometime next year.