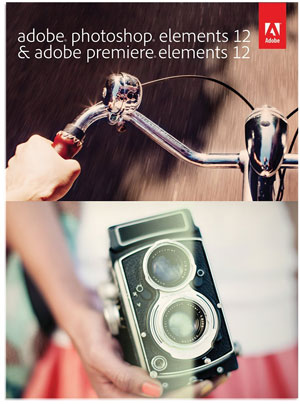 Affordable new versions of Adobe Photoshop Elements and Adobe Premiere Elements give consumers a healthy taste of the software leader's unparalleled professional image and video editing capabilities. Photoshop Elements 12 and Premiere Elements 12 are selling for only a fraction of the full versions' cost while preserving much of the functionality and adding some interesting new bells and whistles.
The biggest upgrade comes to Premiere Elements 12. For the first time, you'll get Adobe's signature guided edit mode. These step-by-step tutorials take the guesswork out of everything from adding transitions and titles to narrating your video — all using your own footage.
The updates to Photoshop Elements 12 are more incremental but still very useful. Among other cool new features, you'll find red-eye removal for pets, a guided editing mode for restoring old photos, and photo effects like puzzle and zoom burst.
Photoshop Elements 12 costs $99.99 on adobe.com or $82.99 on Amazon and Premiere Elements 12 costs $99.99 on adobe.com or $82.99 on Amazon ($79.99 if you own an earlier version of the software). A bundle of both Photoshop Elements 12 and Premiere Elements 12 is $149.99 on adobe.com or $124 on Amazon ($119.99 for an upgrade).
Photoshop Elements 12
The Photoshop Elements photo editor offers three user interfaces under one roof. Quick mode includes a handful of simple features. Guided mode offers step-by-step instructions on how to use more advanced features, and Expert modes includes everything the software can do.
Mobile Albums via Adobe Revel
Photoshop Elements is tightly integrated with Adobe Revel, a cloud storage service and mobile app that lets you access your photos any time and anywhere you have a data connection. It syncs photos between your online Revel account and your mobile device so that whatever you do on one is available on the other. Import as many photos as you want within the first 30 days of opening an account. After that, you can import up to 50 photos a month for free. For $5.99 a month, Revel Premium lets you import an unlimited number of photos.
Revel is available for iPhone, iPad, Mac, and Windows 8. Windows 7 and Android users log in at adoberevel.com; while a full version of Adobe Revel is not yet available for Android, an app called Adobe Revel Importer gives you a simple way to wirelessly upload photos from your Android phone to your Revel account.
Indicative of the greater role Revel now plays in Photoshop Elements, the Organizer now includes a dedicated space for Mobile Albums into which you can drag and drop photos or albums stored on your computer so that you can see them on your mobile device. If you edit a photo from a Mobile Album, the changes will appear both in your Organizer and on your smartphone and tablet.
More Guided Edits
Guided mode now lets you play around with a couple of fun new effects. With Photo Puzzle, you can turn an image into a puzzle and remove pieces, which you can set to be small, medium or large.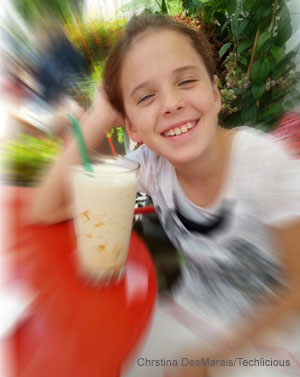 Zoom Burst is a dramatic new effect that can bring a look of action to your photo, similar to what you might get if you zoomed into a subject during a long exposure. First, you use a crop tool to make sure whatever you want to focus on is in the center. Then after applying the Zoom Burst effect, you use an Add Focus Area tool to bring clarity to a certain part of the image. Here's what it did to a photo of my son with his prom date.
Restore Old Photo is another new Guided edit that's quite useful if you have aged photos that have been beaten up over time. It lets you crop ragged edges, spot heal small spots and tears as well as repair bigger tears and scratches with a Healing Brush tool. It includes a Clone Stamp tool to copy one part of your photo to another, a Blur tool to smooth out imperfections and a Dust Remover button to get rid of dust and scratches.
Content Aware Move
Sometimes people aren't where they're supposed to be in a photo. Content Aware Move in Expert mode lets you draw a circle around something you want to move and drag and drop it to its proper position. Photoshop Elements automatically fills in the hole where the item or person was originally located with copies of pixels the software thinks make the most sense for the area in question.
Content Aware Fill for Straighten tool
Seeing off-kilter horizons or other lines in a photo can be annoying. Photoshop lets you adjust the alignment of a photo on its background canvas, but doing so means you can see empty areas on the canvas. While cropping a photo would solve this problem, sometimes you may not want to lose details on an image's edges. In that case, check an Autofill Edges box within the Straighten tool in Expert mode. Photoshop will automatically fill in the blank edges.
Quick Frames, Effects and Textures
In Quick mode, the previous version of Photoshop Elements only let you adjust things like exposure, levels, color and balance. The new version adds 10 of the most popular Frames, Effects and Textures, which you can click to instantly apply to an image.
Pet eye correction
If you're an animal lover, you'll appreciate Photoshop Elements' new pet eye correction feature, which lets you easily remove green, yellow and other discolorations. To use it, open the Red Eye Removal panel, check Pet Eye and simply click each of the pet's eyes to correct the problem. The Red Eye Removal panel also includes sliders to let you control the intensity of the correction.
Auto Smart Tone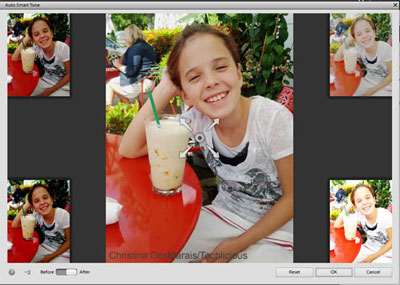 While automatic adjustments have been available in Photoshop Elements, Auto Smart Tone now lets you fine tune contrast and darkness by moving a grid toward the corners of a photo, each of which displays the image differently. One corner shows it with low contrast and high light, another with high contrast and high light, another with high contrast and low light and the final corner with low contrast and low light. Since people tend to prefer the same levels of contrast and light, Photoshop remembers your choices over time, so its automatic adjustments become more personalized.
Premiere Elements 12
The beauty of this video editing software is how easy it is to use.
Mobile Albums
Just like Photoshop Elements, Premiere Elements 12 includes Mobile Albums so you can easily upload to your Revel account whatever video you shoot on the fly. As a result, your PC or Mac always has access to what's on your mobile device and vice versa.
Guided Edits
Editing video is so much more complicated than editing a static photograph. Adobe's new Guided Edits make a very effective tutor. The Guide mode is especially helpful for novices, showing you step by step how to do things like add music or narration to a video. In this screen capture, for example, you can see that the yellow area on the bottom of the screen even shows you exactly where to click.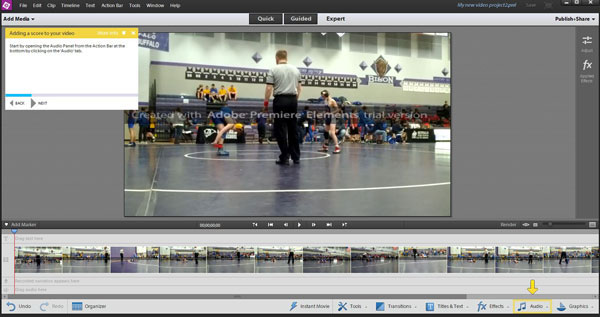 Auto Smart Tone
This new feature corrects your clips but lets you tweak the automatic enhancements. Over time, it remembers your adjustments, learns your preferences and applies them to subsequent video clips.
Clicking on Auto Smart Tone within the Adjustments panel brings up a controller you can move toward one of four corners of a clip, which each will deliver a different adjustment. Whatever you choose, Auto Smart Tone will use it as a starting point for future edits.
Video Adjustment Layers
Premiere Elements 12 features non-destructive editing, so you can edit a clip without permanently altering the original clip itself. At the same time, adjustment layers let you easily apply adjustments and effects to more than one video clip at a time.