All of the Roku Streaming Players Compared
Techlicious editors independently review products. To help support our mission, we may earn affiliate commissions from links contained on this page.
I've been a big fan since Roku launched almost 10 years ago, and although I have tested all of the players on the market, I always come back to Roku for my personal use. That's because Roku streaming players support more services than any other, offering thousands of streaming channels and more than half a million movies and TV shows to watch. And, in my experience, Roku's software is the most efficient when it comes to finding what you want to watch no matter where it's streaming, allowing you to find free, rental, and purchase options wherever available.
But if you're buying a Roku player, you may be a bit lost by the seven different models available – many of which are very similar. Our top pick for the best streaming media player was the Roku Ultra when we tested in August 2021 against top contenders from Amazon's Fire TV line, Google's Chromecast with Google TV, and others. But a new model, the Roku Streaming Stick 4K+, introduced in October 2021, has taken the Ultra's place as our Top Pick for most people. Though if you're looking for a lower price or need high-end features, like support for Dolby Atmos, there may be better options from the lineup.
To help you make the right decision, I'll break down all the models, compare their features and give you my recommendations for every situation. What's important to know is that every Roku model has the same user interface and the same channels, so the core functionality will be identical.
Roku Model Comparison Chart
Roku Express
Roku Express 4K
Roku Express 4K+
Roku Streaming Stick 4K
Roku Streaming Stick 4K+
Roku Ultra LT
Roku Ultra
Retail price (sale prices noted below)
$29.99
$34.99
$39.99
$49.99
$69.99
$79.00
$99.99
Video
Full HD 1080P
4K with HDR, HDR 10+
4K with HDR, HDR10+
4K with HDR, Dolby Vision, HDR10+
4K with HDR,
Dolby Vision, HDR10+
4K with HDR, Dolby Vision, HDR10+
4K with HDR, Dolby Vision, HDR10+
Remote
Simple
Simple
Voice with TV controls
Voice with TV controls
Always listening voice with TV controls, private listening, personal shortcuts, and rechargeable batteries
Voice with TV controls and private listening
Voice with TV controls, private listening, and personal shortcuts
WiFi
802.11 b/g/n single band
802.11ac dual band
802.11ac dual band
802.11ac dual band, MIMO
802.11ac dual band, MIMO
802.11ac dual band, MIMO
802.11ac dual band, MIMO
Ethernet jack
X
X
X
X
X
✓
✓
Audio
Dolby Audio
Dolby Audio with volume leveling and night mode
Dolby Audio with volume leveling and night mode
Dolby Audio with volume leveling and night mode
Dolby Audio with volume leveling and night mode
Dolby Audio with volume leveling and night mode
Dolby Atmos with volume leveling and night mode
MicroSD for more storage
X
X
X
X
X
✓
✓
Headphones included
X
X
X
X
X
✓
✓
Lost remote finder
X
X
X
X
✓
X
✓
No separate box: plugs directly into TV HDMI
X
X
X
✓
✓
X
X
HDMI cable included
✓
✓
✓
X
X
X
X

Best streaming for most people: Roku Streaming Stick 4K+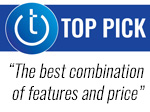 Having used the Roku Ultra, our former streaming media top pick, and the Streaming Stick 4K+ for several weeks side by side, my favorite Roku streaming media player and the one I'd recommend to most people is the Streaming Stick 4K+. It has everything you need – 4K streaming with support for Dolby Vision and HDR10+, reliable 802.11ac dual-band MIMO wireless, and the most advanced remote control of any Roku model.
The Streaming Stick 4K+ has a portable form factor: it's shaped like a USB stick and plugs directly into a TV's HDMI port. And if you have a powered USB port on your TV, that means you don't need a separate power brick to plug into the wall. That saves space and cable clutter versus the Roku Ultra, and also makes the Streaming Stick 4K+ smaller and lighter to pack when traveling.
The Streaming Stick 4K+ also has the best remote of any Roku model, the Voice Remote Pro. It is the only model that runs on a rechargeable battery (via microUSB) that, in my experience at home, lasts more than a month before needing a charge. And, you can use the remote while charging.
Also unique to this model, the remote offers an always-listening mode for Roku voice commands. It will allow you to find your remote when it's lost between the cushions just by asking, "Hey Roku, where's my remote?", as well as control Roku search, play shows, etc. There is a physical switch to turn this feature on and off, and I actually defaulted to turning it off because I found background conversation (including from the TV) would sometimes activate it in the middle of watching a show and kick you out to something else. Hopefully, this is an issue Roku will address in future software updates.
Like the remote on the Roku Ultra, the Streaming Stick 4K+ supports Private Listening, a feature that lets you hear the audio through headphones plugged into the remote's 3.5mm headphone jack. And, it has user-programmable "shortcut buttons"; anything you can ask Roku to do with a voice command can be a task assigned to one of the two buttons, so you can have one-button access to anything you want, whether it's a specific program or channel or search results for a favorite actor, director, or genre of shows or films. I've found the buttons so easy to program, that I'll assign a button whenever I start binging a show.
While the Ultra offers Dolby Atmos home theater support and larger WiFi antennas than the Streaming Stick 4K+, unless you have a Dolby Atmos system or WiFi reception issues in your TV location, the Streaming Stick 4K+ offers a better combination of features and a lower price.
Price: $69.99 (on sale for $64.75 as of 12/7/2021)


---

Best budget streaming 4K: Roku Streaming Stick 4K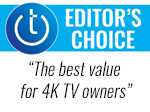 The Roku Streaming Stick 4K is easily the best value for 4K TV owners on a budget. For just $15 more than the least expensive Roku 4K model, the Express 4K, it offers a number of upgrades, to video quality, WiFi and the remote.
Roku adds support for Dolby Vision for the Streaming Stick 4K, in addition to HDR And HDR10+. Both HDR10+ and Dolby Vision are upgrades to the standard HDR format that use dynamic data scene by scene (or even frame to frame) analysis for more accurate colors and better contrast. Videos are often available in just one of the two formats, so support for both makes a big difference. For instance, Netflix supports standard HDR And Dolby Vision, but not HDR10+.
For WiFi, the radio has been upgraded from 802.11ac dual band to 802.11ac dual band with MIMO. MIMO, which stands for multiple input multiple output, uses multiple transmitters and receivers to transfer more data simultaneously, which can improve streaming if you have WiFi issues.
And the remote offers voice control, TV power, and volume control buttons – features I use all the time with my Roku players.
I also prefer the plug-in form factor of the Streaming Stick 4K to the Express 4K and 4K+. The stick plugs directly into your TV's HDMI port, eliminating the need for extra cables and making it easier to take along on trips.
Price: $49.99 (on sale for $39.99 through 1/1/2022)


---

Best budget streaming: Roku Express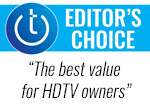 If you don't have a 4K TV and are on a budget, the Roku Express is a great choice. You can enjoy the same easy-to-use Roku interface as the more expensive models and the remote, while basic, has direct access buttons for popular services. Plus, Roku makes it easy to use the Roku Express right out of the box, as it comes bundled with an HDMI cable and batteries for the remote. I particularly like the adhesive strip that Roku includes to mount the Express to the bottom of your TV to reduce clutter. And when you catch it on sale, it's less than $20.
Price: $29.99 (on sale for $19.99 through 12/25/2021)


Updated on 12/8/2021 with new Roku streaming media player information and recommendations.
[Image credit: Roku/Techlicious]
For the past 20+ years, Techlicious founder Suzanne Kantra has been exploring and writing about the world's most exciting and important science and technology issues. Prior to Techlicious, Suzanne was the Technology Editor for Martha Stewart Living Omnimedia and the Senior Technology Editor for Popular Science. Suzanne has been featured on CNN, CBS, and NBC.
Discussion