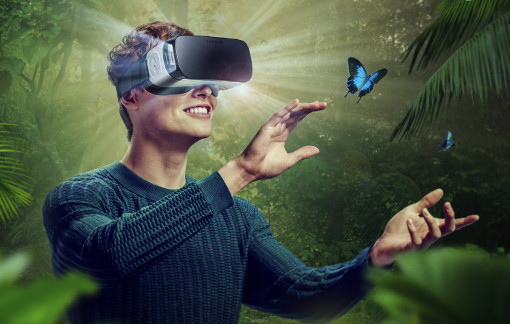 The Samsung Gear VR's immersive features may sweep you away with excitement, but keep one foot on the ground. Careless use could damage your phone display or even damage your own eyes.
According to a report on virtual reality news site Road to VR, absentmindedly leaving your Gear VR on the patio can prove a costly mistake for your phone. The Samsung virtual reality headset can burn your phone screen if you leave it out in the sun still attached to the headset.
The risk comes from exposing the Gear VR headset to sunlight with the headset lenses facing up — or worse, with the lenses directly facing the sun. You know what lenses do to sunlight — remember those science projects with a magnifying lens and some wood shavings or paper? The headset's lenses focuses sunlight, which can damage your phone screen.
The warning to keep your VR headset away from direct sunlight applies to other headset brands as well. An Oculus Rift user also lamented burn marks on the phone screen after it was left out in the sun, still attached to the Rift.
The danger extends to your eyes if you wear the Gear VR without a phone docked in the headset. Again, these are powerful lenses. If you wear them without a docked phone and accidentally look at a strong light source such as the sun, the lenses will focus the light rays into your eyes.
Emerging safety guidelines indicate it's not a healthy idea to allow children 13 years and below to use the Gear VR at all. The powerful lenses can negatively impact children's visual development. Heed the Gear VR manual: This device is not intended for children.
Children older than 13 may be tempted to wear the Samsung Gear VR for long periods, delighted by the immersive qualities of virtual reality. But using the headset for hours straight can strain the eyes, potentially leading to eye damage over time. Encourage teens to take frequent breaks when using VR headsets.
[Image credit: Samsung]