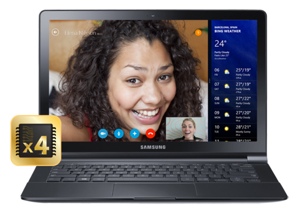 When the MacBook Pro with Retina came out last year, I just had to have it. There are plenty of great reasons to buy the device – it's powerful, it's light and the screen is stunningly crisp. But there's a great reason not to buy it too: The hefty price tag.
Now, though, there's a less-expensive alternative. The Samsung Ativ Book 9 Plus ultrabook boasts an incredibly streamlined, lightweight design, a Retina-quality touchscreen, and strong battery life, all with a price that starts at $1399, $100 less than the powerful MacBook Pro.
It's the details that really make the Ativ Book 9 Plus shine. The 13.3" screen is home to a rich 3,200 x 1,800 Gorilla Glass display – better than the Pro's 2,560 x 1,600 resolution – that doubles as a touchscreen. The Samsung ultrabook also beats the MacBook Pro on portability: It's 0.51 pounds lighter than the Pro (though heavier than the MacBook Air), and about 0.21" thinner too.

The Samsung ultrabook comes with the same size 128GB solid-state drive found in the 13" MacBook Pro Retina and a similar 7.5-hour battery, but it does come with less RAM (4GB vs. 8GB). The Samsung's processor is a 1.6GHz Intel i5 quad-core. It may not be as powerful a machine as the MacBook Pro, but still, it's fast, fast, fast.
If you're looking for a good Windows 8-based alternative to the MacBook Pro, the Samsung Ativ Book 9 Plus deserves your consideration. The ultrabook goes on presale on August 18. MSRP for the computer is $1,399.99.