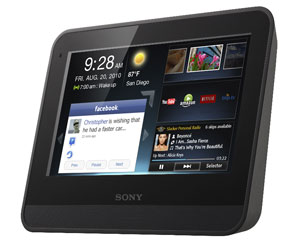 Sony is introducing another display into the home, a personal Internet viewer called the Dash. It's designed to pull relevant bits of content from the Web, using your home's wireless network, and serve them up on a 7-inch touchscreen.
As its name suggests, it's a personal device—meant to be customized with the 1,500 or so applications it will have at launch. Photo viewing, weather and traffic updates, alarm clock, Facebook and other social networking feeds are all part of the plan. And all of the content is meant to be taken in almost at a glance. You set the parameters ahead of time when you load the applications, so you don't end up getting sucked into the Internet the way you can with both a computer and a smart phone.
To get a sense of what will be available, check out Chumby, the first personal Internet viewer. The Dash will run all of the Chumby applications plus the Bravia Internet Video Link applications that run on Sony's Bravia TVs.
The Dash will be available in April for $200.