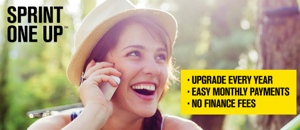 Over the past few weeks and months, Techlicious has been reporting on a slew of new wireless plans from the largest U.S. cellular carriers. Verizon, AT&T and T-Mobile have all come out with contract-free plans with an early phone upgrade option. Today, Sprint joined the fold with One Up, it's own early-upgrade plan.
Sprint's new plan works much like the others – instead of buying your phone upfront with a huge subsidy, you pay for your device in full via 24 monthly payments. After a year, you can bring your old phone in to Sprint and get a new one, canceling any remaining payments on the old device.
Here's where the Sprint plan differs from those offered by Verizon and AT&T: Sprint is offering One Up customers $15 per month off their monthly wireless bill to make up for the loss of subsidy. That adds up to $360 in savings over 2 years – not too shabby. There are a few catches, of course. Your $15 discount goes away when your phone is fully paid for, and you'll have to pay a $36-per-line activation fee to get started.

I was pretty brutal with AT&T and Verizon's trade-in plans – they're great deals for the carriers, but not really a good deal for you. Sprint may be late to the party, but the One Up plan makes a heck of an entrance. If you're looking for an early trade-in plan, Sprint's latest is worth checking out.
For more on Sprint's One Up plan, check out the Sprint website.