Like your TV, mobile apps have become convenient babysitters to occupy your kids time and allow parents a few quiet moments to get things done. Storybots, a company from the creators of JibJab (you can quickly see the resemblance), is developing apps to encourage kids and their busy parents to spend some interactive time together. To help with this, Storybots has just released several new apps for their Happy Kids and Happy Parents line of apps geared towards children between the ages of 2-6 years old.
KidQuoter
If you've ever wanted to capture those unexpected moments when your child says hilarious things, now you can, and share them out via email as well as on Facebook and Twitter. You can customize the message using different backgrounds and costumes (JibJab style). The KidQuoter app for the iOS allows you to track up to four kids with their face, name and age.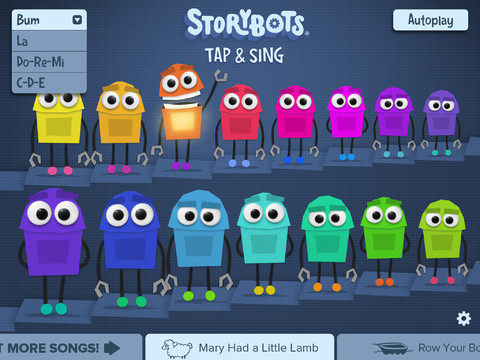 Tap & Sing
Designed to teach kids musical concepts like notes and tempo by using popular kids songs like Mary Had A Little Lamb, Tap & Sing is like "Guitar Hero for kindergartners" using fun and colorful JibJab Storybots. Tap & Sing is available for the iPad.
ABC Videos
A collection of 26 entertaining videos (one for each letter of the alphabet) that teach kids vocabulary, but also reinforces the shapes and sounds of each letter. The videos are already available on YouTube, having been collectively viewed over 6 million times, but this is first time the video are in one place within an app that you can take on the go. ABC Videos is available for the iPhone and iPad.
All apps are free to download and come with a free 30-day trial of StoryBots universe, which gives you access to all of the StoryBots books, and Starring You Videos. Membership is $4.99 per month.