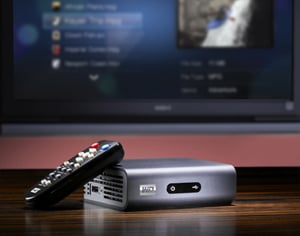 Want to watch all the great content you can get on your computer on the big screen? Western Digital's WD TV Live connects to your home network for streaming digital content from your computer, the Internet or any hard drive attached to your network—in resolutions of up to Full HD (1080p).
The WD TV Live is primarily set up for viewing videos, music and photos you have stored on your computer, portable hard drive or even camera or camcorder. You can also watch that Japanese cat jump out of the box on YouTube over and over as well as look at images from Flickr or even listen to music from Pandora or Live365.com.
It has an Ethernet jack for connecting to your home network. So if you have an Ethernet connection near your TV, you're in luck. Otherwise, you'll have to go out and fetch a Wi-Fi adapter—you should be running wireless-N for Full HD streaming. The WD TV Live also has two USB ports and supports Picture Transfer Protocol, which lets you show photos and movies directly from a digital camera or camcorder.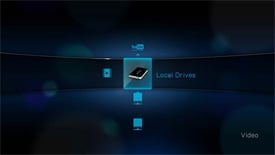 Connecting the WD TV Live to your TV is simple. Use either the included component video (plus your own optical audio cable) or composite cables, or your own HDMI cable. Once the box is connected, the included remote control lets you easily navigate to your videos, photos and music—wherever they're stored.