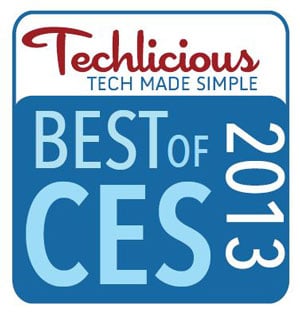 Every January, the largest gathering of the consumer electronics industry descends upon the city of Las Vegas for the Consumer Electronics Show (CES), which boasts the newest, coolest technology for the coming year.
The team at Techlicious spent hours perusing the halls of the Las Vegas Convention Center searching for the most exciting new products of 2013. Be it TV or PC, camera or headphone, gadget or service, these are the 10 products which made our list for the Best of CES Awards 2013.
Audiovox IPD-2FM iPad Mount
Keep those kids happy in the backseat with his nifty rear seat entertainment mount for iPad. Featuring a very simple to use protective case/seatback docking station with a built-in charging port, your family can appreciate a drama-free ride--be it short or long. Just snap in your iPad and use the built-in dual channel IR headphone transmitter to let the kids listen to their favorite content through wireless headsets, or let the FM transmitter broadcast audio through the car stereo system for all to enjoy. $149.99 from Crutchfield.
Canon Powershot N
Compact and cute as a button, this Wifi-enabled camera by the heavyweight camera manufacturer is a product of our connected times. A tilting touchscreen allows you to take pictures from many different angles and a Creative Mode then takes this image and gives you a choice of five, different photos of the original using various compositions, lighting and color. Think of it as Instagram without the bother. You'll also get a 12.1 megapixel CMOS sensor, 8x optical zoom and a 28mm wide angle lens. $299.99.
DISH Hopper with Sling/Hopper Transfers
DISH Network is adding two new ways to untether your programming from the confines of your living room. Streamlining its hardware by adding Slingbox technology straight to its popular Hopper set-top box now allows you to easily stream live TV from anywhere--including smartphones, computers and tablets. Additionally, the new Hopper transfers now lets you download your favorite recorded programming from your DVR onto your iPad and enjoy them without an Internet connection. Free with a new subscription. Upgrade pricing not announced.
Lego Mindstorms EV3
On the 15th anniversary of the original Lego Mindstorms, the toy company has offered up a brand new robotics construction set aimed squarely at kids 10 years and older. With smartphone integration, a variety of new sensors and 3D building instructions, which zoom in and rotate on any tablet, children will use this kit to design, build and program their own robots. The brains of the operation, the EV3 Intelligent Brick, is also stronger, quicker and includes more memory than the previous generation. $349.99
Lenovo IdeaCentre Horizon 27
It's a computer, it's a table, it's a gaming console. No, it's an insanely fun Lenovo all-in-one computer. A multi-user, multi-touch, multi-mode "table PC", you can lie it flat on any surface to let people look at images, play music or videos, and even play games like the included Monopoly or Air Hockey (it even comes with edice and four joysticks). Or, prop it up on its stand to do some work and use it as the fully functional Windows 8 device it is. A handle and built-in battery let you bring the fun anywhere in—or out of—the house. $1,699.00
Monster NCredible Headphones
Music superstar Nick Cannon knows kids. And in keeping with his mission to empower them, he's designed his line of NCredible headphones for Monster to deliver Monster's legendary sound at a price that his young fans can afford. Not only do these fashionable headphones sound great, they're kid-friendly. The NTune On-Ear Headphones ($129.99) have a headband that can twist and flex without breaking and the Nergy ear buds ($69.95) snap together magnetically to create a necklace when not being used so they don't get lost. Both come with tangle-free cords and in a variety of bright, fun colors.
Polaroid Fotobar
Tired of creating all your photo projects in a creative vacuum? Polaroid understands the need for human contact and will be opening 10 Fotobar retail destinations to bring consumers more options when making their individual works of art. The stores promise a more accessible–and personal–process. Use photos from your mobile phone or social photo platform, like Instagram or Picassa, then sit down at a comfortable work area with a "phototender" who will help turn your photos into photobooks, wall canvases other evelasting memories. Images can be matted or printed onto materials like metal, acrylic, wood or even bamboo. Or, you know, paper works, too. The first store will open this year in Delray Beach, FL.
Philips Fidelio HTL9100 Soundbar
Nobody wants a bunch of wires invading their living room to accommodate a surround sound audio system. But we all love immersive sound. That's where soundbars come in. A sleek antidote to a 5.1 stereo system, this Philips Fidelio includes detachable Bluetooth side speakers that you can place anywhere in the room for true surround sound. Or just keep them together for a simple, solid audio experience. $799.99
Samsung F8000 Series TVs
It was tough picking one TV to award this year, but Samsung's F8000 series gets the nod for the whole package it delivers: the F8000 series gets a new micro dimmer, which delivers higher contrast—deeper blacks and a brighter image; the bezel measures less than one quarter inch wide, for super-sleek styling; and Smart Hub improvements make finding content easy than ever by combining your favorite web apps and TV channels one a single home screen. Plus, you can use natural language to control the TV, without the need to learn specific commands.
Stick N Find
This super-thin (.16 in), quarter-sized sticker uses Bluetooth low energy to let you find just about anything within a 100 ft range. Put it on your keys, your kids backpack, your dog–then track your belongings from any iOS or Android device with Bluetooth 4 using an accompanying app to guide you to its exact location. In the dark? Not to worry, the stickers will also buzz or use flashing lights to act as your beacon. $49.99 for four stickers from Sticknfind.com.