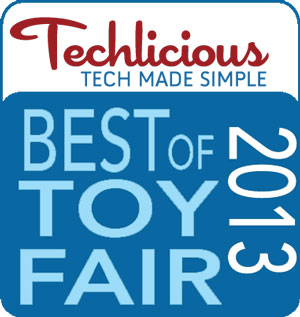 This week, all of the big toy companies came together in New York City for Toy Fair to showcase the hot new toys they'll be rolling out for summer and the holidays. Among the countless plush toys, bikes and dolls were a number of innovative new tech toys that are sure to show up on kids' wish lists this year.
These are the 10 toys that made our list for the Best of Toy Fair Awards 2013.
Hasbro Playskool Showcam
There are plenty of kid-tough cameras out there. But for kids, it's not just about taking pictures, it's also about showing them off. Hasbro address both desires with its Playskool Showcam. The Showcam has built-in projector and, with the flip of a switch, kids can change to projector mode to view a slide show of the stored photos. Press the Silly button and the photos project surrounded by a fun-themed frame. In camera mode, kids can add stamps, masks and even animations with sound effects. For kids 3+. Available in fall 2013 for $59.99.
Skylanders Swap Force
Activision's Skylanders line brought real-world action figures to life in video games back in 2011. This year, Skylanders Swap Force delivers a whole new level of interactivity with characters that kids can take apart to swap tops and bottoms. With 16 the figures being released, kids can put together a whopping 256 unique skill combos to optimize game play. Available in fall 2013. Pricing has not been set, but figures should start around $10.
Cloud b Twilight Turtle
The Twilight Turtle, a combination plush toy and star-show night light, has been one of our favorite tech toys for years. This year, it gets a significant upgrades—integrated Bluetooth let's you stream music through a built-in speaker and also control the Turtle remotely. With the Cloud b app, you can turn Twilight Turtle on and off, create your own music mix and even play songs in your phone's music library. You can also record a bedtime story or lullaby for your child to play while he or she is falling asleep. Available in May 2013 for $50.
Spin Master Zoomer
Want a pet dog for the kids without the hassle of feeding, daily walks and vet bills? Zoomer, the robotic dog from Spin Master, may be the closest you'll get to the real thing. Just like a real dog, Zoomer comes ready to learn new tricks, and kids will have fun training him (her?) to obey their commands (around 30 teachable commands will be available when it comes to market). Kids will also love playing ball with Zoomer, rubbing his belly to make him happy and watching Zoomer explore his surroundings. Check out the video to see Zoomer in action. Zoomer will come to market in the fall with a suggested retail price of $99.99.
Tomy Battroborg
Tomy's new Battroborg line of miniature fighting robots look like the love child of a Rock-em Sock-em Robot and a Nintendo Wii controller. Players use the motion-sensitive 2.4 GHz nun chucks to make their Battroborg robots throw quick volleys of rights and lefts. The robots record how much damage they've sustained on an LED indicator—hit the other player five times and it's a knock-out! Up to 10 Battleborgs can fight it out at one time for a true Battle Royale.
When we gave these a try at Toy Fair, the controls were responsive to our motions and intuitive to use. Not to mention, a lot of fun! The Battroborgs have been on the market in Japan since July. According to a Tomy PR rep, "They're Big in Japan
." A set of two robots with the battle arena will cost $79.99 when it comes Stateside in the fall. (Note: Japanese version pictured)
Spin Master Flutterbye Fairies
Boys have numerous choices of flying helicopters, quadrocopters and octocopters (alright we made that last one up) to choose from. But girls toys have been somewhat lacking in the flight arena. So we loved Spin Master's creative adaptation of the flight technology used in their Air Hogs lie for the Flutterbye Fairies. These flying figures have an infrared sensor that enables the toy to hover over the child's hand (see the video below). The figures will be available this fall for $34.99.
Disney Planes Wing Control Dusty
Remote control vehicles are always a bit tough for young kids to control. So Mattel developed a unique and intuitive controller for its new RC plane, Disney Planes Wing Control Dusty. Aspirational pilots as young as three years-old can easily control the plane by grabbing a motion-sensitive plane-wing controller in each hand and then tilting their arms like a real plane. Pushing a button on one of the controllers starts the propeller spinning and makes the plan move forward. Available in August 2013 for $39.99.
Barbie Digital Makeover Mirror
Girls can go crazy playing with makeup—without all the mess—with the Barbie Digital Makeover Mirror. This iPad accessory frames your iPad with makeup mirror lights and provides a full palette of eyeshadows, lipsticks, blushes and glitter. Girls use the included stylus to apply makeup, while face-detection ensures the makeup stays in place as the girl moves. When she's done, she can add accessories, such as a tiara or earring, and save the look in the Digital Makeover app. No more broken lipsticks and makeup-smeared faces! Available in August for $69.99.
VTech iDiscover App Activity Table
As parents, the VTech iDiscover App Activity Table impressed us with its seamless integration of physical and digital play. When a tablet (iPad or Android) is secured into the table and paired via Bluetooth, each element the child plays with on the table affects what he or she sees and hears on the tablet. If a musical key is pressed, the app plays music-related content. If the ABC roller is rotated, the app serves up alphabet-related content. You get the picture. And so will your child—which is why we love it. For ages 1+. Available in fall 2013 for $44.99.
Romo
Most toy robots are just that – toys. And Romo certainly has his (we think it's a "he") playful side. You can zoom him around with any iOS device (uses an iPhone 4, 4S or iPod Touch for his "brain" and any iOS device for the controller), take pictures and even watch him react to your facial expressions. But for older kids, the personality-filled Romo also offers a programming mode that teaches basic programming skills using simple, drag-and-drop word blocks. While more advanced kids can explore the underlying Javascript, if they're so inclined. Romo will begin shipping in April. Preorder now from romotive.com for $149.00.