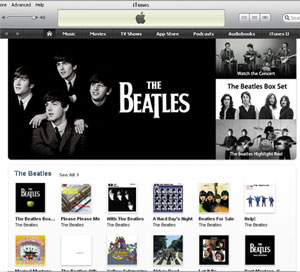 After years of waiting, Apple finally came to an agreement with EMI Music to make the Beatles available on iTunes. Starting today, each of the Beatles 13 studio albums are available, along with a compilation sets and individual songs.
At this point, I'm not sure this is going to make a huge impact either for Apple or EMI Music. Most Beatles fans long ago bought CDs (or, gasp, LPs!) to get their Beatles fix, and could have easily imported these songs into their iTunes libraries. And youngsters are more keen on Taylor Swift or Rihanna than a band whose last album was released over 40 years ago.
But the Beatles are the Beatles, and there will always be demand for their most popular, and iconic, songs.
The Beatles single albums are priced at $12.99, double albums at $19.99 and songs for $1.29 each on iTunes. The albums are:
Please Please Me (1963)
With The Beatles (1963)
A Hard Days Night (1964)
Beatles For Sale (1964)
Help! (1965)
Rubber Soul (1965)
Revolver (1966)
Sgt. Pepper's Lonely Hearts Club Band (1967)
Magical Mystery Tour (1967)
The Beatles (White Album) (1968)
Yellow Submarine (1969)
Abbey Road (1969)
Let It Be (1970)
The Beatles 1962-1966 (1973)
The Beatles 1967-1970 (1973)
Past Masters, Vols. 1 & 2 (1988)
The Beatles Box Set (2009)