Over the past few years the line between real-word play and virtual play has blurred. First there were the real-life toys that could be controlled by phones and tablets. Now we're starting to see real-life toys control what happens onscreen and are fun to play with when screentime is over.
Last fall, we saw Skylanders Sypro's Adventure ($49.99 on Amazon.com
) capture kids' imaginations with physical action figures that could be transported into the video game. And on the tablet side, Disney's Cars 2 AppMates ($12.99 on ToysRUs.com) charmed kids with cars that could be driven on and off an iPad.
As toymakers sense a rising tension between real-world and virtual toys, they are scrambling to compete with their digital competitors. Done properly, this new era of toys might just have the wow-power to impress a whole new generation of tech-savvy kids. Here are three that show potential:
Nukotoys Nuko Cards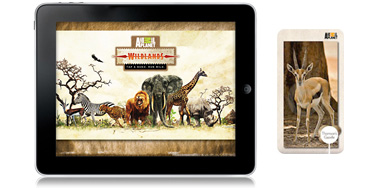 Nukotoys announced two different trading card games that take the game play from the deck into an iOS device (iPad, iPhone). The games capitalize on the popular Monsterology and Animal Planet kids' franchises, allowing kids to bring monsters and animals to life on their devices simply by touching Nuko cards to the screen. Nukotoys would tell us how the cards work, but it's most likely the app recognizes pattern transmitted through capacitive touchpoints when a card is placed on the screen.
The Monsterology Nuko, aimed at ages 7 and up, focuses on a strategy game similar to Risk and Stratego. Kids battle for territory with mythical creatures such as a Griffon and a Kraken.
The Animal Planet game, which is geared toward kids 3-6, invites the user to interact with and explore a variety of animals from the Serengeti, including lions, giraffe, and gazelle. When a child places a card on the screen, the animal is released into the game.
These first two Nukotoys games will be available for iOS in the Spring of 2012. Android versions are on the horizon.
WowWee AppGear Toys
Tech toy and gadget aficionados will be familiar with WowWee branded toys and the innovation they bring to the toy space. This year, they've announced their new AppGear line of augmented reality-style toys. By placing these toys in front of an iOS or Android device camera, the toys come to life on screen and unlock in-game options.
For instance with Foam Fighters, there's a foam plane that flies in real life and unlocks missions and planes in a fighter-pilot game. The game graphics are layered over the real-time images from the device camera, bringing the action right into your living room.
In Akodomon, kids raise their own virtual pets which seemingly frolic in the real world through the magic of augmented reality. These pets don't just sit in the background waiting for you to show up, either. They'll send messages to let you know that they miss you. Akodomon will have an additional online component with the ability to compete against other pets.
The AppGear line will start arriving in stores in early 2012.
Qualcomm Vuforia Sesame Street Prototype Playset
An unusual partnership between chip-maker Qualcomm and educational media giant Sesame Street Workshop is bringing the characters of Sesame Street to life through play figures and games on tablets and smartphones. In a demo of the Vuforia prototype playset Bert and Ernie play figures interacted with each other and props, such as a TV and bathtub, in real life and on screen, through the iPad's camera.
They are calling this particular set of toys a "storytelling" opportunity, as kids are prompted to perform certain actions to move the story along. For example, Ernie might say that he's lonely, encouraging a child to add Bert to the scene. If they're bored, they might want to dance to the jukebox or watch TV (aptly animated with scenes from the 'Street). This video gives you a sense of the vision.