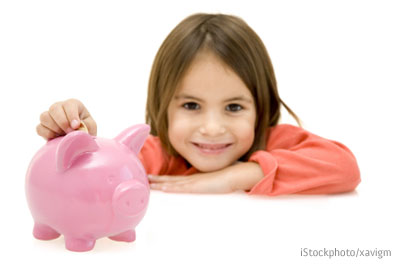 By Cheryl Lock, LearnVest
Is your child ready to start learning about how to handle their money?
If you're David Bach, author of "Start Late, Finish Rich," the answer is simple: Hold up a $1 bill and a $100 bill. If your kid knows which one he wants, it's time. (In Bach's case, his son, Jack, knew the $100 bill was the winner at around 3.)
To get started, you can try Tykoon, a free financial services platform for parents and their kids. It only takes ten minutes or so a night to start making a difference in how your child views his finances.
Why It's Needed
An ING survey found that one in three parents is more prepared to talk to their kids about drugs, alcohol or sex and dating than they are to talk to them about money.
Now, a new survey from T. Rowe Price has found some additionally interesting information about the state of parents teaching their progeny about money:
77% of parents said they don't always tell kids the truth about money matters
Only half of parents admitted to regularly setting aside money of their own to save or invest; additionally, only 43% set savings goals, and only 24% ensure that their investments are diversified
Nearly a third of parents (32%) avoid talking about their family's current financial situation with their kids
"Tykoon should be a portal for parents to start the conversation about money and about earning things," says Bach, who's also an investor in Tykoon. "The other day Jack came to me wanting to know what he could do to earn the ability to stay up later. I told him to pitch me an idea! This is a positive way to change the conversations we're having about money with our kids."
How could Jack pitch his dad an idea that would allow him to stay up later?
How It Works
Kids who sign up to use Tykoon with their parents will automatically be given four "buckets"—earn, save, give and spend—on their homepage, where they will be able to virtually keep track of their money:
"The way we see it, this platform will hopefully get kids excited about the flow of money, first earning, then donating, then saving, then spending," says Doug Lebda, Tykoon co-founder and chairman.
The system virtually keeps track of how much money a child has and where, like in savings or spending, while parents maintain the responsibility of moving the actual money between accounts. For example:
In Earning Money: Parents can assign kids various tasks, including recurring chores or one-time jobs to earn an allowance and extra money. Although the bucket is called earning "money," as a parent, you choose how to assign rewards, whether it's through actual cash or other non-cash rewards (like Jack's request to stay up late).
In Saving Money: When you set up your family's profile on Tykoon, you and your child will determine together how much of their earnings should go toward saving. In addition to virtually putting away some of their earnings, it's the savings bucket that allows your kid to also set up and save for a big or long-term goal, like chipping in for a family vacation or contributing to her college education.
In Giving Money: Tykoon is connected with 48 child-friendly, company-reviewed charities to donate to. Parents can control what categories of charities their kids can access (animals are one category, for example). When a parent approves their child's donation, Tykoon's partner, Network for Good, will collect their credit card information, make the donation to the non-profit in the parent's name and send them a tax-deductible receipt.
In Spending Money: Tykoon is also linked with Amazon, so kids can create a wish list of items they want to purchase using their spending money. The Amazon catalog is completely customizable by the parents, meaning that you can close off certain categories from your child (like video games). Once a child has enough money in his 'spending' bucket, he can send a request to his parents to actually purchase the item. Parents then have the option to approve or deny the request.
Tykoon also allows kids to earn rewards (in the form of badges), which their friends who are also on the system can see. In this way, Tykoon sets up earning and saving to be a sort of healthy, wealth-inducing competition.
Related items on LearnVest: