It's been a long time coming. The cell phone peeps got on the fashion train a little quicker than the computer folks, realizing that women will pay more for a pretty, well-designed digital accessory. And companies like Sony, Dell and even Asus, now have attractive laptops.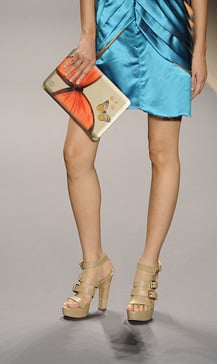 However, it's HP that's stolen the show with its Vivienne Tam Edition Digital Clutch, part of the designer's 2010 collection. Shown on the catwalk of her New York Fashion Week show, this netbook is adorned with a colorful, bright butterfly pattern which Tam believes symbolizes freedom, independence and transformation.
There are no details on the digital clutch yet, other than it's coming out this Spring. But to give you a sense of what to expect, the first Tam offering, the Mini 1140NR 10.2-Inch Netbook - Vivienne Tam Edition, was a 2.45 pound netbook with a 10.1-inch display. Its gorgeous design included vivid red and purple peony blooms on the outside with a red interior—a rarity for computers. And its price reflected its haute couture pedigree: $800.