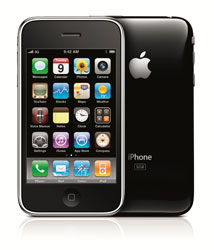 Walmart announced yesterday they cut the price of the Apple iPhone 3GS 16GB to $97 (down $100 from the $197 original price). The quoted price, as usual, requires a 2-year contract with AT&T. That's a big drop, and a clear sign that Apple will release their fourth-generation of iPhone soon, likely at the Apple Worldwide Developers Conference on June 7th.
We can't say much about what the new generation of iPhone will offer since Apple has not yet released any details, or even confirmed that a new generation phone is on its way, for that matter. Gizmodo released an analysis of a purported iPhone fourth-generation prototype that included a front-facing camera, flash and a higher resolution screen, among other changes. We won't know which of these changes will make it into production until Apple makes an announcement.
Some rumors in the tech world have suggested that the new iPhone will have 4G data service. That would be great, as 4G is much faster than 3G for Internet access, but we just don't know if those rumors have any truth to them.
So should you rush over to Walmart and pick up the $97 phone?
The iPhone 3GS is a great phone for $97 and will be upgradeable to the new iPhone 4.0 operating system when it is released in July (which will give you multitasking and the ability to group apps in folders). But we would recommend waiting until June 7th to see if Apple announces a new iPhone. At that point you can evaluate the new features and pricing and decide if it's worth the premium over the current iPhone 3GS.