Wearable tech was big at CES this year where we saw dozens of gadgets to clip on to clothing, wear on a wrist, strap to our heads (or helmets), and even slip on your feet. Many of these wearables are evolutionary, rather than revolutionary, but they have the potential to change the way we will interact with and use technology every day.
Smartwatches: Getting elegant & multipurpose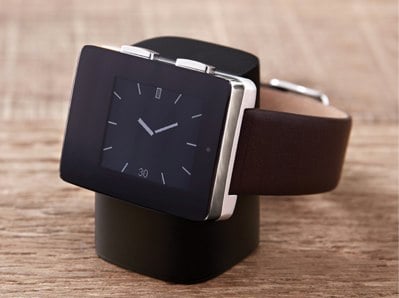 Dozens of companies are getting in on the booming smartwatch trend. Some focused on design and others on fitness.
On the design side, the Pebble watch company, a veteran of the game, has a more elegant version of its already popular Pebble smartwatch, featuring more memory and a new steel case and band. The Wellograph, a combo smartwatch and fitness tracker, also impressed us with its elegant design, simple and easy to read interface, and sapphire crystal display. In the back of the watch is a heart rate sensor and built-in is a 9-axis motion sensor to track your activity throughout the day.
Most of the fitness-focused smartwatches have impressive activity tracking capabilities. Many try to do too many things and end up not doing any of the well, but there are a few smartwatches that get the balance right.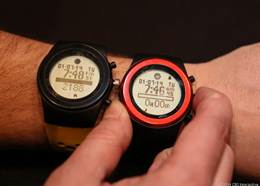 One such smartwatch is the LifeTrack Zone R415. On the fitness tracking side it counts steps, automatically determining activity (walking, running, etc.) and eliminating non-step activities like driving in a car. It includes heart rate monitoring as well as calorie counting based partly on that data. The Zone will also track your sleep and wake you up when it detects you're in a light sleep phase so you won't be groggy.
On the smartwatch side, it alerts for incoming and missed calls, text messages, and email. You can't take a call or read the full message on the watch. For a combo device that's main focus is fitness, that bit of functionality feels like enough. All this and it will last a year on the small, replaceable battery inside. The R415 will be available this summer.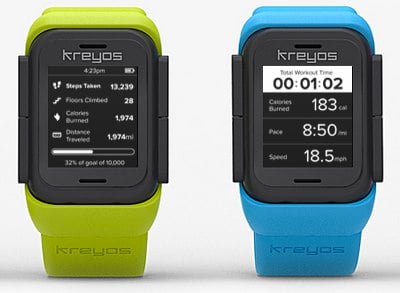 Kreyos Meteor also sports a long list of useful features, but manages to make it all work. The smartwatch comes with a speaker and mic built-in for taking calls and for voice commands. You can also control smartphone functions with simple hand movement gestures. The screen shows full notifications, such as the text of emails and SMS, and for some apps you can respond back from the watch.
As a fitness tracker, the smartwatch counts steps and other activity, though there's no heart rate monitor. The Meteor can connect to an ANT+ or Bluetooth-enabled heart rate monitor to utilize that information to calculate calories burned. All this plus you don't have to strap it on as a watch--with accessories you can wear around your neck or clip on to clothing.
Life Tracking: One wearable to rule them all
Another big trend in wearable is lifelogging, which most often involves hooking a camera to you from dawn 'til dusk or when you're doing something cool, such as base jumping from the world's tallest building. Capturing every single moment on film doesn't appeal to everyone, but what about a device that constantly monitors what you're doing and saying in order to enhance your life and store key data?
That's the promise of the Kiwi, a clip on device that's still in development. If the Kiwi does everything it's supposed to do, it will be one of the most sophisticated trackers available. The Kiwi senses motion, temperature and sound (including your voice) like other devices, but the paired smartphone app doesn't just collect information The app also interacts with the Kiwi and the wearer. You can wear it anywhere on the body from your collar to your wrist to your shoe and is capable of different functions or collects different information depending on where you wear it.
If you wear the Kiwi on your arm or wrist during a workout, the Kiwi can track reps for almost any activity from weight lifting to cardio machines. Keep it on your collar or mid-chest while cooking and it can record you speaking a recipe aloud. The Kiwi will calculate the nutritional value of the meal and update your grocery list. Wear it on your wrist to initiate actions, like making a call or turning the temperature up on your connected thermostat, with simple gestures.
You can build all of these interactions via the smartphone app. The interface looks similar to If This Then That (IFTTT.com) and the recipes seem just as easy to set up as they are on IFTTT's service. The number of actions and trackers are in the dozens, and each can stand alone or be grouped together as part of profiles based on time of day, location, or activity.
Again, if it fulfills its promise, the Kiwi could be the most sophisticated tracker available when it launches this summer.
Kid Wearables: Always keep them in sight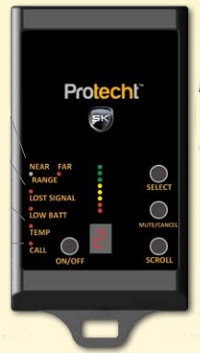 Sophisticated tracking devices aren't just for adults. A number of new clip-ons are designed specifically to help parents keep kids safe.
The Protecht electronic guardian lets caregivers track eight kids or items up to 150 feet away with a master controller. The master unit gets an alert if a child wearing a tag gets too far away, is exposed to extreme temperatures or if someone presses the panic button.
That works for close proximity monitoring but isn't useful if your child is at school and you're across town at the office. Trax is a GPS device that parents can track from a smartphone app or the web. You can see where the tracker is on a map at all times and get alerts if your kid exits a pre-set safety boundary, such as the area around their school, day care, or friend's house. Trax also alerts you if the device gets dropped (or removed) and if it exceeds a certain speed limit.
What's Next?
Advances in textile-based sensors point toward a future where trackers will be articles of clothing just as often as they are accessories. We've already seen the beginning of this in the Sensoria Smart Socks, one of our Best of CES winners. Can a touchscreen sleeve that alerts you to calls and other notifications be far behind?
And why stop at clothes? Google Glasses and other head gear that provide heads-up displays or eye-level images and video seem futuristic now, but a new Google project to create a smart contact lens is already in the works. It's original purpose is to collect blood glucose levels from tears for diabetic patients. We highly doubt that will be the only trick it can do when it's ready for a wider audience.
Biometrics, images, video, activity data, location, messages, mood—there's no limit to what you'll be able to track with your watch or shirt or eyewear or accessories in the next few years.