The next time you feel hungry while playing video games, don't bother reaching for a phone. Pizza Hut has just launched a new app for the Xbox 360 that allows you to place an order without ever putting down your controller.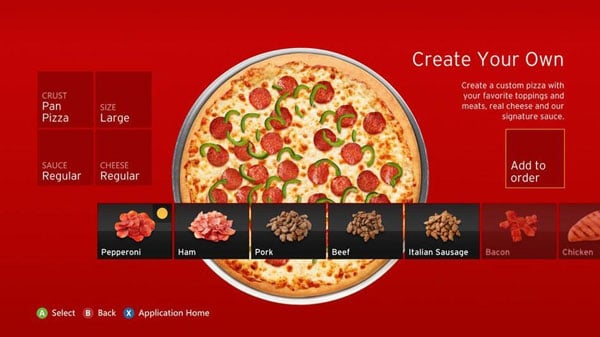 The Xbox Live app contains Pizza Hut's entire menu, from toppings to desserts. You use your controller to order, or if you're feeling especially fancy, you can order through voice commands or using Kinect hand gestures. And once you've decided on what you want, you can connect the app to your Xbox account to save your preferences. You can even share the details of your order on Facebook.
But is the app worth your time? Probably not – it's feels inconvenient. To use it, you need to stop whatever game you're playing or whatever movie you're watching and navigate a series of menus. That may not take a huge amount of time, but gaming menus are cumbersome and load times are irritating. It would be far easier to reach for your smartphone and order using an app there instead. You could also just … you know, call.
If you're a fan of Pizza Hut and you have an Xbox, the app might at least be worth trying as a novelty. Download and use the app by May 6, and you'll receive 15 percent off your first order.