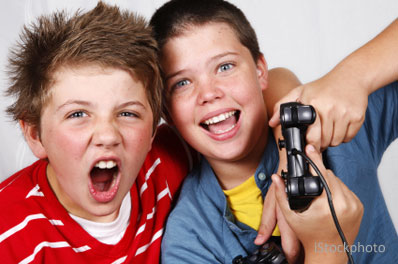 If you're buying gifts for children, chances are very good there are games on someone's wish list. But should you buy them those games? Are they just mind candy, capable of rotting kids' brains?
Over the last few years, there's been a lot of research done on the social, emotional, mental and physical benefits of gaming, and the results may surprise you: video games actually have considerable real-world benefits.
More and more, games are designed to be social. In fact 62% of gamers play games with others, either in-person or online, according to the Entertainment SoftwareAssociation. These social games teach kids leadership skills, including delegating responsibility, and working effectively as a team. Research from Ohio State finds that players who engage in cooperative play in games show increased cooperative behavior. Even for violent games, players learn how to control their aggression and work cooperatively, according to research from the University of Gothenburg in Sweden. Those players who work well with others and keep a cool head are rewarded.
And there's evidence from a researcher working with Athabasca University in Canada that suggests video games can be used to help kids actively combat their nightmares. What they found is that people who play games were more likely to have lucid dreams, in which they see themselves outside their own bodies, and the ability to take control of their dreams to change the outcome.
It's probably not a big surprise that games have mental benefits. According to research at the University of Rochester, people who played action-based games made decisions 25% faster than others, without sacrificing accuracy, and can pay attention to more things at once. The Office of NavalResearch has found that games improve the fundamental ability to reason and problem solve in new contexts.
What may be surprising is that kids who play video games scored 23% higher in creative tests involving tasks such as drawing pictures and writing stories, according to MichiganState University.
And then there are the physical benefits. Gamers score faster reaction times, even in situations not involving video games, and have better hand-eye coordination and manual dexterity. Even in preschoolers who play interactive video games, studies out of Deakin University showed better object control motor skills,such as kicking, catching and throwing a ball.
All of this research doesn't mean that all video games are created equal. It can be hard to judge which ones are good—even educational.
The first stop is to check the age rating provided by the ESRB (Entertainment Software Rating Board). The ratings are:
E for everyone
E10+ for everyone over the age of 10
T for teen
M for mature audiences over the age of 17
A for adult audiences over 18 years old only
You'll get a few details on the back of the box as to why a game received a particular rating, but there's detailed information on the ESRB website and through mobile apps for iPhone (free) or Android (free).
If you're looking for reviews, head over to Common Sense Media, for younger kids titles, or PluggedIn.com, for titles for tweens and teens. CommonSense Media lets you drill down by age, content, educational benefit and more. PluggedIn .com lets you sort by rating, platform and genre. Both sites paint a clear picture of what your child will experience. I'd also recommend heading over to the big gaming sites, like IGN.com and Gamespot.com, to check out the reviews, comments, trailers and screen shots.
In the end, you know the child you're gifting the best, but arming yourself with the facts can help you make the right choices.