Computer Security Software Buying Guide 2010
Techlicious editors independently review products. To help support our mission, we may earn affiliate commissions from links contained on this page.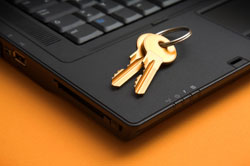 We, the computer using public, are in the midst of a seemingly endless war between digital ne'er-do-wells (who wish to infect your computer, steal your data, and generally make your life difficult) and security companies (who do their best to keep on top of the ever-evolving malware scene). Our part in this war is to be vigilant about keeping our own computers and data secure, and that means installing security software. By keeping our own computers safe, we allow one less avenue for viruses and malware to spread to others.
It used to be that installing a commercial security suite was a quick way to turn your brand new PC into a glorified calculator, as it chewed up precious resources. Thankfully, the makers of anti-virus packages have been working hard the last couple of years to lighten the toll on your computer and speed up scans for malware. With the performance issue largely cleared up, there is no excuse left for not protecting your PC. Besides, by keeping your computer secure you reduce your exposure to potentially more expensive troubles, like identity theft.
Security Software Essentials: What You Need
There are three basic components necessary to any comprehensive security setup—anti-virus, firewall, and anti-malware (including spyware).
Anti-virus: Anti-virus software is often the center-piece of any security suite. Good anti-virus software will run regular scans to see if any viruses have loaded themselves on your computer, and they'll provide active protection by checking each and every file as you download or open it. All quality packages will also monitor programs for suspicious behavior in order to block potential threats, even those that have yet to been confirmed as viruses.
Firewall: A firewall is a filter that controls the flow of data to and from your PC and the Internet. It is able to block hackers from breaking into your PC and stop rogue programs from reaching out to their creators and handing over your personal information or downloading more malware.
Anti-malware: There are plenty of threats out there that don't fall under the guise of viruses and other infections normally caught by anti-virus software. These invaders, which go by various names including spyware or adware, often need their own dedicated tool to root them out. Unlike viruses, spyware and its companions primarily use your browser as the entry point and are often used to steal passwords and credit card information, or serve up endless streams of annoying pop-up ads. While most security suites include malware protection stand-alone tools, such as Ad-Aware and Malwarebytes Anti-Malware, offer excellent protection as well.
Do You Need Security Software if You Own a Mac?
Short answer—yes. While Apple (and its acolytes) like to extol the virtues of living in a virus and spyware free universe thanks to OS X, the truth is Macs aren't invincible. While there are still far fewer threats out there targeting Apple users, they do exist. And as OS X becomes more popular, the amount of malware will grow to prey upon complacent users. No one wants to be a victim of the first major OS X virus outbreak.
Also, many security threats are caused by "phishing" for personal information through email and bogus websites. Security software suites have features that identify potentially dangerous sites before you enter personal information.
Why You Should Use a Non-Administrator (vs. Administrator) Account
One of the things that made using Windows XP so dangerous was that by default all users were administrators, meaning they had unfettered access to the operating system's most sensitive parts. That meant any malware you stumbled across also had the same permissions. While you could easily change accounts to be "restricted," this mode was practically useless for doing anything besides creating office documents and browsing the Web.
Windows Vista and Windows 7, on the other hand, create all new user accounts as "normal" users instead of administrators. Unlike the restricted accounts on XP, normal users can still install software and make changes to settings. But they must confirm the changes by clicking through a prompt that is isolated from other programs and therefore cannot be manipulated by malware.
OS X and Linux user accounts are, by default, created as non-administrators. The administrator account, known as Root, is actually turned off in OS X. Instead these operating systems rely on temporarily granting administrative privileges on a per-use basis.
Regardless of what operating system you run though, you should never do your day-to-day computing from an administrator account.
What's the Difference Between Free and Paid Security Software?
There are, of course, free software packages that provide essential security tools such as anti-virus, anti-malware, and firewall, such as AVG and Comodo Firewall. The problem is that no one offers all those tools together in one easy-to-use package without charging you an annual subscription fee. So, while you could cobble together an adequate defense for free, the easiest and most reliable way to protect your PC is to pay for one of the many commercial suites of Internet security software.
In addition to the simplicity of having all the various pieces of security software integrated, for-pay products tend to have advanced features, such as parental controls, password safes, or file encryption, that aren't essential but can enhance the security of your PC.
Using a combination of free apps (or a mix of free and commercial software) does have its perks however. The integrated suites can be vulnerable to viruses and attacks that can shut down all your computer's defenses in one shot¬—something much more difficult to accomplish with separate security programs.
Unfortunately some free programs will try to install unnecessary browser toolbars (which you can opt out of during installation), and many free versions of apps will repeatedly ask you to upgrade to the paid versions.
Do You Need Parental Controls?
Both Windows and OS X have built in parental control features, but they're very basic. The controls built into security suites tend to be much more robust and customizable. You can block certain programs from running during particular times of the day, or to run only for a set amount of time. You can also quickly block or unblock Web sites as the need arises in a much simpler fashion than the built-in features of your OS.
Don't Get Fooled into Buying Rogue Security Software
Rogue security applications masquerade as real virus or spyware-protection programs for the sole purpose of separating you from your money. At best, the programs do nothing; you simply lose however much money you paid for what is, essentially, worthless junk. At worst, these programs can track your keystrokes and steal your personal information from your PC.
Perpetrators of rogue security software scams use a wide variety of methods to fool potential victims. One very common method is to pop up a flashing or other seemingly scary message when you visit a website that tells you "Your PC is infected with a virus. Click here to fix".
If you click on the ad, you may be authorizing it to download the malicious software to your computer and, once installed, you will keep getting messages about viruses, spyware, etc. on your PC that can only by fixed by buying the "premium" version of the product. Of course, there are no viruses on your PC except for the rogue security program itself.
For more information, read Protect Yourself from Fake Security Software.

Our Picks: Commercial Security Software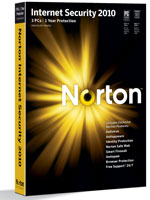 Norton Internet Security 2010 (street: $43, retail: $70 for 3 PCs) Symantec's latest version of the popular Norton suite comes with a number of impressive features, including parental controls, Insight (for detecting causes of system slowdowns), and Quorum, a feature for detecting as yet unidentified threats by watching how a program behaves as well as checking it's reputation by analyzing download and usage statistics from other Norton users. Quorum also takes locality in to consideration, so downloads from, say Russia, will automatically be trusted less than those coming from within the U.S. You'll also get a firewall and malware protection for removing spyware and the like. Norton goes beyond pure security though and offers Insight, which helps identify what programs are causing system slowdowns.
Norton's impact on system performance has been significantly reduced, and it's more effective at blocking malware than its competitors, according to recent lab tests. Buy Now at Amazon.com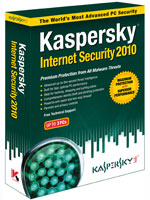 (street: $33, retail: $80 for 3 PCs) Kaspersky is the least resource intensive of the bunch, making it perfect for older machines. It packs a behavior based threat scanner, anti-malware, and a firewall just like Norton, but it offers its own unique features as well. Most impressive is Safe Run, a way to run programs "sandboxed" from the rest of the programs on a computer, including the operating system. This is perfect for Web browsing since it can prevent the installation of spyware and viruses, but note—programs will be significantly slower when run in this mode.
Kaspersky Internet Security 2010 also has iSwift and iChecker scans that only check files that have changed since the last scan, making "quick scans" actually quick. There is also a gimmicky, but useful onscreen keyboard for entering passwords that key-loggers and most spyware will be unable to detect.
Its one major flaw is interface design. Many options and settings, including basic ones like the scan scheduler, are buried in menus when they should be right up front. Buy Now at Amazon.com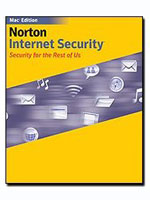 Norton Internet Security 4 for Mac (street: $33, retail: $80) There aren't nearly as many choices of security suites for Mac, which perhaps explains why this suite costs $10 more than a similar PC version, but it does the job effectively. It provides protection against malware, identifies fraudulent websites and includes a firewall. Scanning of files is slow, so best to schedule scans for overnight. Buy Now at Amazon.com
Our Picks: Free
Avira AntiVir Personal: Avira offers reliable, basic protection from viruses and malware just like the other free options on this list. But it does have one feature most other free security offerings lack—boot time scan. Avira can scan your PC for viruses and malware before Windows has a chance to load, this is essential for removing rootkits, or viruses designed to circumvent security programs. Download Now at Free-AV.com
Microsoft Security Essentials: MIcrosoft's free anti-virus package was generally received warmly when it was released a couple of months ago. And when combined with the built-in Windows firewall, it constitutes a full-fledged (if basic) security suite. It may lack some of the more advanced options of even its free competitors, but according to independent tests, it and Avira rank with the best commercial offerings when it comes to detection and removal. And, like Avira, it can remove rootkits. Download Now at Microsoft.com

Discussion