The Best Bluetooth Headsets
Techlicious editors independently review products. To help support our mission, we may earn affiliate commissions from links contained on this page.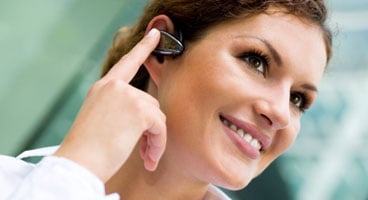 For talking on your phone while driving, a Bluetooth headset is a practical, and often legal, necessity. Even when you're not behind the wheel, a wireless headset leaves your hands free while talking, makes it easy to answer incoming calls without fishing for your phone and blocks out external noise so it's easier to hear.
Shopping for a headset may seem a straightforward matter of fit, call clarity and design, but there are some other key features to consider. Here's what to look for, or skip directly to our picks for the best Bluetooth headsets.
Fit
This is largely a matter of personal preference. Some of us like an earbud that fits snugly into the ear canal, while that sensation feels uncomfortable to others. You generally get an over-the-ear loop to keep the headset steady. Some headsets come with loops in assorted sizes and styles, and on some compact models the loop is removable (particularly helpful for eyeglass wearers). And while all in-ear buds come with a selection of adapters to fit different ear sizes, premium models provide a wider selection of options.
The tricky part is that you can't walk into a store and try on a Bluetooth headset to find the perfect fit – and really, would you want to test drive a used earbud? The optimal strategy, then, is to buy from a retailer that offers no-questions-asked returns.
Noise Cancellation
Headsets with effective noise cancellation systems have two microphones: one picks up your voice, a second picks up the sounds around you. That background noise is then digitally removed so your voice is transmitted more clearly, and you don't have to shout to be understood. This works best with steady, repetitive noise, like the background rumble in cars, buses and trains.
In addition to this electronic system, all headsets eliminate some noise simply by blocking out external noise. The fit and style of headset you choose is a major factor here: an earbud that fits snugly in your ear canal will do a better job than a loose-fitting model, and of course a stereo headset will be twice as effective.
Controls
There aren't a lot of tasks you need to tackle with the headset controls – primarily answering and hanging up the phone, and adjusting the volume level – but you want to handle them quickly and easily, without having to hunt for the right tiny button. This can be a real challenge with many designs we've tried. So look for the technological features you need, but also pay attention to the size and layout of the physical controls.
Fashion
Bluetooth headsets don't have to be clunky eyesores anymore. In the past few years, manufacturers have miniaturized components and ramped up the style factor, providing options as understated and inconspicuous or hey-look-at-me fashion-forward as you like.
Multipoint
You may want to connect your headset to more than one phone, or maybe your cell phone and your laptop for Internet calling. If so, you'll want a headset with multipoint capability – instead of having to set up the Bluetooth connection over and over every time you switch, a multipoint headset will remember the pairing information for several devices.
Stereo
As more and more of us turn to smartphones for music listening and even video watching, a stereo headset becomes a tempting proposition. Interestingly, a true stereo headset isn't required for listening to stereo sources: even a mono model that supports the A2DP standard will play back both channels of a stereo signal. Of course, having a speaker for each ear does provide more pleasing audio, and keeps external noise at bay.
Extended Capabilities
Phones have gotten smarter, and so have headsets. Today you'll find surprisingly sophisticated functions built right in, including voice control, caller ID announcement and even a selection of downloadable apps in certain models.
Our Picks
Here are five of our favorite premium Bluetooth headsets, each with its own distinctive advantages.
The Jawbone Era is one of the most technologically advanced earbuds on the market. Aliph has always delivered particularly effective noise cancellation; now they're also processing incoming audio based on your environment, to help you hear more clearly. The new design increases the speaker size 25% over previous models without increasing the overall in-ear size – that makes for improved sound quality and higher volumes in challenging situations. There are no tricky little buttons to fumble for: the earbud is touch-sensitive, so you can answer a call by tapping it. You get A2DP compatibility and a wide range of available looks, textures and finishes. And the company continues to push the envelope with downloadable apps that let you listen to email, dictate text and email messages, call directory assistance and more, all hands-free.
Price: $129.99
The Voyager Pro+ is larger than many competing models, but lightweight and exceptionally comfortable: just slip it over your ear and it fits securely, with none of the fuss and bother that fitting smaller earbuds sometimes requires. The boom mike combines with Plantronics' excellent noise cancellation and wind-noise protection systems to provide clear conversations, while A2DP support handles music, podcasts and GPS directions. If you're an iPhone user, you'll see a headset battery level on the phone display. And Plantronics includes a year of Vocalyst Basic service with the purchase, enabling you to send and receive email and Twitter messages, and listen to news updates. Price: $67.21
The Q2 is very small and comfortable, with top-notch audio quality, and A2DP compatibility. The secret sauce here, though, isn't the way you listen, but the way the headset listens to you. The Q2 supports a wide range of voice commands. When the phone rings, you can simply say "Answer" or "Ignore." If the caller is in your contact list, the headset will read the name aloud, not just recite the number. Want to check on battery life? Press the button and say "Check battery." You can also use voice commands to return a call, get news and stock quotes, check on your phone connection and more. And if you can't remember a particular command, no problem: just ask the headset "What can I say?" and it will read off your options. Price: $71.32
The Sound ID 510 is another compact device that fits well and sounds good, with solid noise cancellation performance and A2DP support, but here again there are special features that make it stand out from the crowd. For starters, there are free downloadable apps for iPhone, Android and BlackBerry that actually let you tailor the sound reproduction to your personal preferences, boosting bass response or highlighting higher frequencies for enhanced voice clarity. The headset also supports pass-through mode, which feeds outside audio to your ears when you're not on a call to avoid that cut-off feeling. You can check battery levels on your smartphone screen. And when you want to adjust the volume, there's no need to search for buttons – just swipe your finger across the front of the headset. Price: $99.99
Stereo Bluetooth headsets come in a variety of shapes and sizes, including traditional headphone style, behind-the-neck models and earbuds. Our favorite is this relatively inexpensive system from Jabra, combining compact portability and comfort with solid sound quality both for calls and music appreciation. The electronics and microphone are contained in a small clip-on module, with easy-to-operate buttons that also control music playback with many phones. The Clipper includes a decent pair of earbuds, but that's not the end of that story. The removable buds attach to the main unit with a standard stereo jack, so you can swap in any earbuds or headphones you like. We usually stick with the lightweight buds for walking around town, but switch to noise-canceling headphones when traveling on a train. Price: $40.37
Discussion