The Best Laptops - 2011
Techlicious editors independently review products. To help support our mission, we may earn affiliate commissions from links contained on this page.
Shopping for a laptop is no simple endeavor. There are tons of options out there to consider. You'll have to decide whether you want a tiny ultra-portable PC that you can take everywhere or a heavy multi-media monster with a 17-inch screen and a Blu-ray drive. How much RAM? What speed processor? AMD or Intel? This guide will help you determine which laptop is right for your needs and budget.
In this Guide
Our Picks
Netbooks: Under $500
These are tiny, low-power laptops that have become increasingly popular because of their small size (8- to 10-inch displays), low weight (between two and three pounds) and low price. Netbooks are fine for email and light Web browsing but are not intended for use as a primary PC.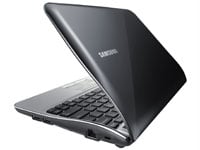 Samsung NF310-A01

Though its price is nearing that of a proper notebook the NF310 is worth every penny. It's well reviewed and has a new dual-atom and Intel graphics processor capable of pushing HD video without breaking a sweat, though the 1GB of RAM could use an upgrade. At 2.8 pounds and 1.2 inches thick this 10-inch netbook is a little bulkier than its competitors, but makes up for it with a unique wavy design and metallic lid. Price: $399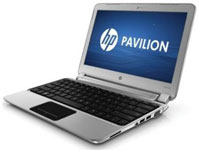 HP Pavilion dm1z

The dual core processor with integrated graphics from AMD make most Intel Atom based systems look like toys. It comes with 2GB of RAM by default but HP is offering a free upgrade to 3GB and it doesn't appear that deal is going anywhere anytime soon. The battery lasts only about five hours and it's a little bulkier than your average netbook (the screen is almost 12-inches), but its combination of price, power and portability is hard to match. Price: $449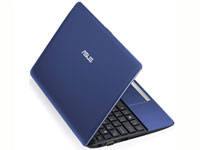 ASUS Eee PC 1015PEM

The company that helped jump start the netbook craze is still pumping out quality machines under the Eee brand name. The 1015PEM packs the latest dual-core Atom, 1GB of RAM, USB 3.0 ports, a claimed 13-hour battery life and 500GB of free online storage for backing up your machine. And like any good netbook the 1015PEM weighs under three pounds, so you'll barely notice it while carrying it around all day. Price: $368
Entry level: Under $700
If you plan on primarily doing e-mail and office tasks and don't expect to carry around your laptop very often, you should be able to find a machine that suits your needs in this price range: decent battery life, plenty of memory and processor power for all but the most demanding tasks and a hard drive large enough to hold all of your music amd photos. Primarily what you sacrifice over the pricier models is style, weight and some advanced options like 3G cellular data.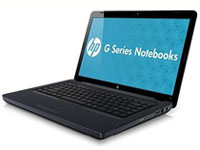 HP G62x
You can get the G62x cheaper than we list here, but the "recommended configuration," is worth the extra cash. The extra $125 gets your a Core i3 processor, a 512MB dedicated graphics card from AMD, 4GB of RAM, a 500GB hard drive and the larger 6-cell battery for a claimed five and half hours of life. It's not the lightest machine on the block at 5.5 pounds, but it's slightly more svelte than many other laptops in the category. Price: $625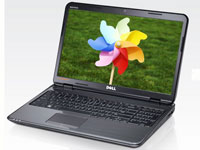 Dell Inspiron 15r
Core i3, 4GB of RAM a 500GB hard drive -- the 15r is speced like a machine that costs about $100 more. You'll only get about four hours of battery life out of the 15r and at almost 6-pounds it's a beast of notebook but it's hard to argue its value. Like many "entry level" laptop this Dell is slightly cheap and plasticy, but you'll barely notice while browsing the Web or watching videos on its LED backlit HD screen. Price: $549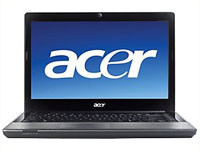 Acer Aspire TimelineX AS4820T-6447
We wish Acer could come up with better names for its machines because remembering AS4820T-6447 is not easy. This machine weighs in under five pounds, packs a Core i5 processor, 4 GB of RAM and a 640GB hard drive. Acer doesn't provide an official battery life estimate, but we wouldn't count on all day performance from this model. That being said, this 14-inch laptop is lighter and more powerful than a PC this cheap has any right to. Price: $700

Mid-range: $700-$1,300
When you decide to pony-up a little more dough for a portable computer you'll not only get slightly better components inside, but lighter and more stylish machines. These PCs will weigh less than their cheaper brethren and will usually have significantly better battery life, generally in the four to five hour range.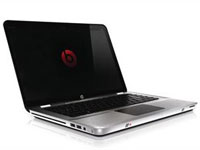 HP Envy 14

The Envy 14 is surprisingly heavy for a machine of its size but much of that can be blamed on its incredibly stylish aluminum body. The gorgeous exterior hides a powerful machine driven by a Core i5 processor, 4GB of RAM and a 1GB graphics card from AMD. It also has a 500 GB hard drive and a claimed 6 hour battery life. In fact the only disappointing thing about the Envy is the fact that HP has discontinued the option for the upgraded "Radiance" display. But that's okay, the stock screen is quite nice on its own. Added bonus: you can trick it out with a quad-core Core i7 and 6GB of RAM and still come in under $1,300. Price: $970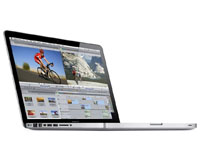 Apple MacBook Pro 13-Inch

The recently updated MacBook Pro line finally added Intel's latest Core i5 processors and bumped the standard RAM to 4GB. The newest models also have Thunderbolt, a new super-fast port for attaching external hard drives and HD cameras. This competitor to USB 3.0 is brand new on the scene and has very little support at the moment. But now that Apple has thrown its weight behind the standard, expect others to embrace it. It's worth mentioning that the 13-inch MacBook Pro has a stated battery life of 7-hours, but because it's built into the laptop there's no swapping out for a spare when you run out of juice. Price: $1,165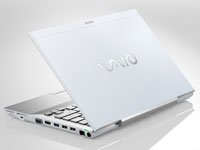 Sony Vaio S
The latest update to the 13-inch Vaio S series weighs in under four pounds and has all the power you could possibly ask for, including a Core i5 processor, 4 GB of RAM and 512 MB graphics card from AMD. The Vaio S also has a USB 3.0 port and Intel's WiDi technology for wirelessly connecting to TVs and external monitors that are WiDi enabled (or connected to a WiDi base). Price: $1,000

High end: $1,300 plus
Laptops in this price range usually fall into one of two categories -- sleek, ultra portable marvels of engineering or high-powered, multimedia and gaming monsters. If you're a gamer, a video editor or someone who never wants to leave their laptop behind, expect to land in this price range.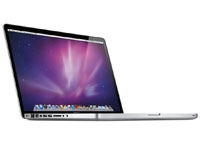 Apple MacBook Pro 15-inch

If you edit a lot of photos or movies, this is the laptop for you. The standard 4 GB of RAM and 500GB hard drive is more than enough for the casual media dabbler. And the quad-core Core i7 and switchable AMD graphics should blaze through almost any task you throw at it. Turn off the discrete graphics card to get up to 7-hours of life from the non-replaceable battery. At 5.6 pounds the 15-inch MacBook Pro is surprisingly light for its size, especially when you consider that the body is made of solid aluminum and not plastic. Price: $1,715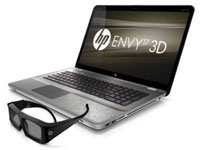 HP Envy 17 3D

Four Core i7 cores aided by 6 GB of RAM and a 1 GB discreet graphics card from AMD make this the most powerful laptop in our round up. Like the Envy 14, this HP machine has a gorgeous aluminum body and Beats audio for improved sound quality. But the show stopper here is the 17-inch, full HD (1080p) 3D screen. Of course, powering all this hardware takes some serious energy. If you get two hours out a battery consider yourself lucky. Though at over 7 pounds, you probably won't be lugging it around, anyhow. Price: $1,600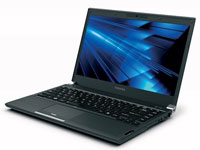 Toshiba Portege R700-S1332

Sony has retired its "cram every high-end component into an impossibly small body" model. Thankfully Toshiba seems fully capable of pulling off the same trick. The 13.3-inch R700 weighs in around three pounds, but still manages to squeeze in a quad-core Core i7 processor, 4GB of RAM and a 128 GB SSD. We only wish that Toshiba offered the option to upgrade to a discreet graphics card. That Core i7 is calling out for some help doing the heavy 3D lifting.
Price: $1,500
Types of Laptops
Netbook: These are tiny, low power laptops that have become increasingly popular because of their small size (8 to 10-inch displays), low weight (between two and three pounds) and low price. Netbooks are fine for email and light Web browsing but are not intended for use as a primary PC.
Ultra-Portable: If you're someone who always wants to have your main computer with you and you move around frequently, ultra-portable laptops are for you. They often command a premium over larger notebooks but they're incredibly light (under four pounds) and usually get fantastic battery life. Ultra-portables pack 11 to 13-inch screens.
Thin and Light: Thin and lights make good choices for those who plan to carry their laptop around with them but don't want to spend the extra cash on an ultra portable. Most pack 13- or 14-inch screens and weigh under five pounds.
Mainstream: These are your workhorse machines that pack enough power for office software, HD video playback and Web browsing, but won't break your wallet. They usually have 15-inch wide screens and weigh between five and six pounds. Many newer mainstream laptops, even those with surprisingly low prices pack advanced multimedia features, like HDMI ports and the ability to playback music and video without booting Windows. These are perfect machines for people who don't want to spend a lot of money and don't plan on carrying their laptop around very often.
Desktop Replacement: These are large laptops with high-end components and large HD and even 3D screens. Some newer models come with 16-inch screens, but more common are 17 or 19 inches. These machines have discreet graphics processors, powerful main processors and often media components such as Blu-ray players and sub-woofers. These are great for those who want to watch HD movies, play demanding 3D games or do video editing, but don't want to sacrifice the space needed for a desktop computer. Since desktop replacement systems weigh in well over six pounds (with some coming in at an ungainly nine pounds), you won't be carrying these around very often, but they are mobile enough to move from room to room in a house. Don't expect to leave these unplugged for too long; with all the power under the hood and the large screens, if you survive more than two hours away from an outlet, consider yourself lucky.
Important Features
Operating System (OS): The operating system is the friendly and pretty go-between that connects you to all the code and circuits that do the actual work. It controls your on-screen programs, handles tasks like creating and saving files and determines what programs you can run.
If you buy a Mac, it'll come loaded with Apple's OS X operating system. OS X has its perks—it tends to be faster than Windows and is much more secure. On the downside you can only get it on Macs, which tend to be more expensive than Windows-based PCs, and many popular applications (especially games) are not available for OS X, though that gap is closing.
If you buy a PC, you'll be looking at Windows 7, the current standard bearer for Microsoft which gives OS X some serious competition in both the eye-candy and usability departments. It's more than enough to make you forget the disaster that was Vista and includes a redesigned taskbar, which we're totally enamored with.
Though you'll have a choice between 32-bit and 64-bit when buying a Windows 7 PC, go with 64 bit. Most hardware is compatible with it and it will run most 32-bit applications. You'll also have to decide which version of Windows 7 is best for you—Home Premium, Professional, and Ultimate. Home Premium is sufficient for most home use (e.g., playing videos, Web browsing, and using Microsoft Office). If you absolutely must use applications that don't work with Windows 7 (or Vista for that matter) and use your PC for running a business out of your home, Professional is a worthwhile upgrade that brings XP Mode and enhanced networking and backup features to the table. Ultimate adds some cryptographic and language tools, but unless you're the type who absolutely must have every feature (just to have them), you can probably skip it.
Whichever OS you choose to go with, just remember that programs that run on Macs generally won't run on Windows, and vice-versa, at least not without a little bit of trickery. Macs come with a program called Bootcamp, which allows you to install Windows on your Mac (you still have to purchase and install Windows). However, you can't run Windows applications directly from within OS X, you must reboot into Windows. If you need to switch back and forth frequently, there are other options for that, such as Parallels, which will let you run Windows programs from within OS X, but they also require you to purchase a copy of the Microsoft OS. Again, depending on where you fall on the nerd scale, we don't recommend this route unless you've got some serious computing to do.
Processor: The central processing unit, or CPU, is the brains of the system. Intel is the biggest manufacturer of processors, and you'll find their CPUs in most laptops. AMD is another (and often less-expensive) manufacturer.
Intel makes a dizzying array of laptop processors—Atom, Celeron, Pentium, and the Core series, which comes in i3, i5 and i7 flavors. Atom processors are made for netbooks, while Celerons and Pentiums are geared at bargain-basement machines intended for e-mail, Web browsing and light computing tasks. If given the choice, opt for a Pentium over a Celeron processor. Core processors are a must if you're planning to run games, edit photos and video or use your PC as a media center.
Processor speed is measured in gigahertz (GHz), and higher is better. If you're getting a Core, however, don't sweat the gigahertz too much. Unless you're a hardcore gamer or doing heavy video editing, any Core (be it i3 or i5) can handle your needs. For the most intensive computing tasks, the Core i7, generally found in gaming rigs and high-end desktop-replacement systems, is the way to go with its quad-core options and sizable cache.
Graphics Card: You'll only need to look for an upgraded graphics card if you plan on playing 3D games or editing a lot of HD videos. Generally, cards from NVIDIA and AMD will indicate that the laptop has more powerful graphics capabilities. Look for cards with at least 256MB of video RAM, preferably 512MB or 1GB if you will be playing cutting-edge 3D games or doing your own video editing.
Memory (RAM): Random access memory (RAM) is where the operating system temporarily stores programs that are actively running and the files currently in use. So the more RAM your computer has, the more it can do at a time, and the faster it'll run. The good news is that RAM is relatively inexpensive—and it's the most cost-effective way of improving your PC's performance.
When deciding how much RAM to get, you'll want at least 4 GB if you plan on doing light gaming or photo and video editing. For super-intensive tasks (HD video editing, for example) 8 GB is best. If you're going to max out your RAM, make sure your laptop runs the 64-bit version of Windows 7 or you won't be able to use any RAM beyond about 3 GB.
Hard drive: Your hard drive is where you'll store all your documents, photos and programs. The size you need depends on what you'll be using your laptop for. If you primarily work on documents and want to upload a few photos and such, 250 GB should be plenty—though, like RAM, more is almost always better. As a point of reference, a 120GB iPod can hold roughly 30,000 songs, 150 hours of video or 25,000 photos—but remember that your programs like Microsoft Office and your operating system will eat up a significant chunk of your hard-drive space. If you expect to carry around a lot of music and videos and you keep every photo you ever take, definitely opt for a larger drive. Between 500 and 750 GB should take care of all but the biggest digital pack rats.
Another thing to consider when looking for a hard drive is the speed at which the disc inside rotates. (The faster it spins, the faster you can access the data on it.) Most laptops still come with 5400RPM drives, but if you want top-notch performance out of your laptop, look for one with a 7200RPM hard drive. A faster drive will cost a small premium (say, $20 more), and it won't make much of an impact on basic tasks like email and Web browsing—but for gaming, handling large files and video editing it can make a world of difference.
If you absolutely must stretch the battery life of your laptop and want the fastest hard-drive performance available—and don't mind paying a substantial premium—consider going for a solid-state drive, or SSD. Unlike a regular hard disk, an SSD has no moving parts and uses flash memory (just like your USB thumb drive). Because of this, SSDs are less prone to failure than a standard hard drive, can open files and launch applications faster and give you slightly better battery life. The downside is that SSDs are significantly more expensive and can't quite match the storage capacity of a traditional hard drive. Expect to pay anywhere from $200–$500 more for an upgrade to an SSD.
Battery: Battery capacity is often measured in cells, however a cell doesn't deliver a set amount of power. In fact a six-cell battery in one laptop may actually provide less run time than a four cell in another.
Also, laptops use varying amounts of power depending on processor speed and screen size, among other factors, so you'll have to rely on the manufacturer for an estimate of battery life. A good rule of thumb is to expect about an hour less than the manufacturer claims. If the estimated battery life is three hours or less, it may be worth springing for an extended battery.
Display: You'd be hard pressed to find a laptop without a widescreen display these days (usually identified as a "16:9 aspect ratio"), and we strongly suggest you go with one. In addition to being better for viewing movies, it enables manufacturers to squeeze larger, easier-to-type-on keyboards in sleeker packages.
The size of the screen is also going to greatly affect its weight. If you plan on carrying your laptop everywhere, opt for a 12 or 13.3 inch screen and a resolution of at least 1200 x 800 pixels. For a larger 15- or 17- inch screen, you'll want a higher resolution, preferably 1440 x 900 pixels or higher.
You'll also want to keep an eye out for laptops with LCDs that have LED back-lighting. LED-backlit screens are brighter, while using less power than traditional LCDs. More and more laptops are coming with LED-backlit screens by default these days. But, if it's not even an option, it may be worth skipping that model as it's probably older and destined to be replaced soon.
Wireless Connectivity: Built-in mobile broadband (WWAN) cards use 3G or 4G cellular data networks to get you online even when a Wi-Fi connection is not available. You'll have to pay for a monthly cellular data plan to use one. Each WWAN card is carrier-specific, so check whether AT&T, Sprint, T-Mobile or Verizon has the best coverage in your area before springing for one. This is certainly a worthwhile option if you need to be connected while traveling on business or vacation and a Wi-Fi signal is not available or you want to avoid outrageous hotel connection fees.
Optical Drives (CD/DVD/Blu-ray): All but the smallest of laptops should have a built-in DVD drive that records. You'll need this for not only watching DVDs and listening to CDs, but installing software from discs, as well as archiving photos or other important files.
Blu-ray players can handle all the same media as a DVD drive, plus Blu-ray is the standard for high-definition movies. You'll need this if you plan to use Blu-ray movies from your home collection to watch on your laptop while traveling. As an added bonus, you'll be able to hook your laptop up to an HDTV, if your laptop has an HDMI port (as many newer models do), to watch your Blu-ray discs, saving you from having to shell out a hundred bucks for a separate Blu-ray player for your home theater.

Discussion
New Articles on Techlicious