The Best Places for Free Music Online
Techlicious editors independently review products. To help support our mission, we may earn affiliate commissions from links contained on this page.
By Steve Morgenstern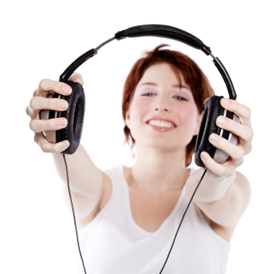 Whether you're a dedicated music lover eager to explore new artists and genres or a fan looking for the hits, you can find it for free on the web. And now it's not stuck on your computer. Many of these online music providers have made the leap from web sites to smart phones and other web-connected devices. So where should you go? After extensive exploration, here are our top choices.
My favorite Internet radio resource is Pandora, which does an exceptional job recommending songs and performers based on your personal musical tastes. You create a free account, then set up "stations" based on your favorite musicians.
Pandora's musical selections are based on a sophisticated database called the Music Genome Project. Fifty real live "musician analysts" listen to songs and evaluate them based on nearly 400 individual criteria, including melody, harmony, rhythm, vocals, orchestration, arrangement and more. Based on that information, Pandora can pull a wide variety of songs into your stream, often from artists you've never encountered before.
The combination of familiarity and discovery is compelling. With the free service you'll hear occasional ads, which I don't find particularly grating, and you're limited to 40 hours a month. If you prefer, you can upgrade for $36 a year, losing the ads and time constraint and gaining access to a higher-quality audio stream. It's a good deal, particularly when you consider that Pandora's reach now extends well beyond the web site, with apps available for most smart phones along with many connected TVs, Blu-ray players, digital media players and standalone Internet radios.
Many terrestrial stations now simulcast on their individual web sites, but for convenient one-stop shopping, you can't beat RadioTime. Not only will you find the hits from your old hometown station, you can also discover what's top of the pops in London, Krakow or Shimla, India. Search for stations by location or by the type of programming they carry, including talk, news and sports in addition to music.
When you sign up for a free account, you gain the option to store favorite stations as presets for easy online access. Given the so-so radio reception I get in my suburban neighborhood, I generally turn to RadioTime even for my local stations.
For Internet-based radio stations, Slacker does a terrific job, with channels for a wide range of musical genres plus special themed stations that come and go. Right now that includes no fewer than 16 separate holiday music channels, ranging from classical to country to R&B and Jazz. There are also stations playing songs for kids, international music and hits from every decade starting in the '40s.
Like Pandora, you can ban tracks or artists and mark songs as favorite, so over time the station becomes truly yours. For $5 per month or $47.88 per year, you can listen ad-free, get complete song lyrics and skip an unlimited number of tracks, which are nice features, but not vital. What may make the subscription worth it is the ability to cache your stations on your mobile devices for playback when you don't have Internet access.
If you want to hear a specific song, head over to Grooveshark, which couldn't be much easier to use. Just type in the name of a song or a performer and hit the search icon. You can play everything that comes up, or pick and choose to create a playlist. I've been known to spend an hour on Grooveshark happily exploring different cover versions of songs that caught my interest.
A recent search for the bluesy holiday classic "Please Come Home for Christmas" turned up not just the 1960 Charles Brown original, but a strikingly diverse range of covers by Willie Nelson, The Eagles, Etta James, Toby Keith, Pat Benatar and James Brown, among others.
You can even save your favorite song choices and playlists, creating a kind of virtual jukebox in the clouds. And while there are on-screen ads at the web site, the music is never interrupted.
Finally a major musical resource that might not immediately come to mind is YouTube, which hosts videos from an extraordinary range of musicians. These include official music videos, professionally recorded live performances, clips from TV shows and lots of fan footage you won't find elsewhere.
Listening to my Springsteen station on Pandora recently, I fell hard for a song by Alejandro Escovedo, a singer-songwriter I'd never encountered before. A quick trip to YouTube turned up dozens of live performances, including a killer duet with Bruce on "Beast of Burden."
Thanks to YouTube's extensive migration to portable and web-connected gizmos, I'm enjoying this performance in 50-inch splendor through my home audio system via Logitech's Google TV unit as I write this. And there are links to Bruce and U2 dueting on "Still Haven't Found What I'm Looking For." And U2 playing at the Brandenburg Gate in Berlin with Jay-Z. And Mumford & Sons' guest appearance on Letterman. Looks like the musical score for today is YouTube 1, Productivity 0.
Discussion
New Articles on Techlicious