Webcam Buying Guide
Techlicious editors independently review products. To help support our mission, we may earn affiliate commissions from links contained on this page.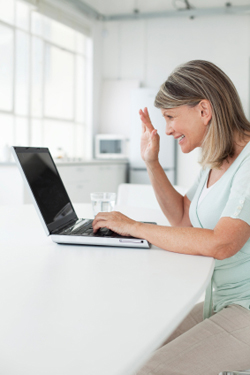 The market for webcams is littered with cheap, off-brand cams, not worth the plastic they come packaged in. And once you weed out those toy-like devices you'll still have to wade through the layers of marketing hype, like "true HD" video, and "Right Light".
The first thing to consider, though, is if you even need an external webcam at all. Many newer laptops (and all Mac laptops) come with built-in webcams. These are often good enough for the occasional video chat, but if you use your camera for regular communications it might be worth investing in a stand-alone model. A separate cam will usually produce higher resolution and higher quality images than an integrated one, and perform better in low light conditions. A separate cam will also give you greater freedom to position the camera, so you can shoot from any angle you want.
When considering a camera, the most obvious spec to consider is resolution. Lower-end cameras usually come with 640x480 (VGA) video capabilities. Higher-end webcams are starting to pop up with the ability to capture full 30 frame-per-second HD video (at 720p). Only Skype is currently capable of handling such high quality video, but most video chat programs will be soon.
These higher end cameras also have high-quality components. Glass lenses (as opposed to cheap plastic) provide clear images. Auto-focus (instead of the fixed-focus) means you're not limited to sitting directly in front of the camera if you want to be seen clearly. And built-in exposure compensation improves low light performance. A few webcams have an optical zoom lens (Forget the digital zoom, it's useless). And some more expensive models come with noise-canceling microphones and filters that clean up background noise and make it easier to hear actual conversation.
There are also different mounting options to consider. Many notebook-specific models have simple clips that fit over the top of your screen, while desktop models have basic plastic bases that must sit on a desk or table. Some cams will have more flexible mounts that can hang over the back of an LCD, sit on a desk or attach to a laptop's screen.

Entry Level Webcams: Under $50
Basic cams in this price range tend to shoot lower quality 640x480 video, but can sometimes squeeze in features like noise cancellation and exposure compensation in low light.
Microsoft LifeCam VX-5000 ($34) This VGA camera auto-adjusts for low light conditions, and has a flexible mount for placing in a variety of places. While it doesn't have any noise reduction technology, it does have an integrated mic.
Buy Now at Amazon.com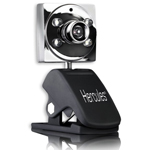 Hercules Deluxe Optical Glass Webcam ($22) This dirt-cheap cam packs some surprising features, including a glass lens, four LEDs for brightening dark scenes and a sensor that can even produce 800x600 video.
Buy Now at Amazon.com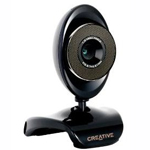 Creative Labs Live! Cam Video IM Ultra ($45) This webcam packs impressive features considering the price. The IM Ultra will take 5 megapixel stills, record HD quality video, and even has a noise canceling mic to make sure your friends can hear you.
Buy Now at Amazon.com
High End Webcams: $50 plus
Here you'll normally get hardier, clearer glass lenses, auto-focus and much higher resolution video. These cams also usually have much higher build quality and look less toy-like than their cheaper brethren.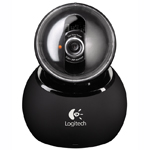 Logitech QuickCam Orbit AF ($96) The Orbit has an auto-focusing glass Carl Zeiss lens and can record HD quality video (1600 x 1200), but it's real killer feature is its motion tracking technology. The motorized base turns and tilts the camera to follow you as you move. The tracking isn't perfect, but it's the only camera on the market to offer the feature.
Buy Now at Amazon.com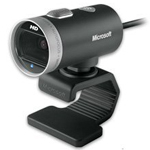 Microsoft LifeCam Cinema ($60) The LifeCam Cinema shoots widescreen HD video (1280 x 720), has auto-focus and positions its noise-reducing microphone slightly above the camera body for clearer sound.
Buy Now at Amazon.com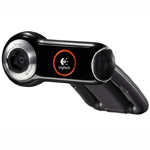 Logitech QuickCam Pro 9000 ($73) With "full" HD video (1600 x 1200), noise reduction, low-light compensation, 8 megapixel still photos and an auto-focusing Carl Zeiss Lens, this top rated camera is the best bang for your buck.
Buy Now at Amazon.com
Discussion