5 TSA-Approved Laptop Bags That Aren't Ugly
Techlicious editors independently review products. To help support our mission, we may earn affiliate commissions from links contained on this page.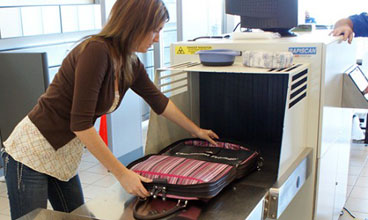 Confession: I think checkpoint-friendly laptop bags are the anti-fashion. Because of this, I've chosen to forgo function and maintain style, but many of my more practical traveling companions would happily ditch fashion for the chance to move through the security line a bit faster.
I talked to those practical travelers to ask them their opinions of checkpoint-friendly laptop bags, a.k.a. TSA-approved, and the response was overall very good. The frequent flyers who use these bags often say they typically get through the line without hang-ups. The most common complaints: cost and style.
This takes us back to my function vs. fashion dilemma; I searched high and low for TSA-approved laptop bags that aren't ugly, and the selection of ladies' bags is quite dismal, I must admit. But here are a few that made the cut for style and function:
The Mobile Edge ScanFast Element
is one of the most high-tech bags out there. It not only includes a section just for your laptop, making it TSA-compliant, but it also has a wireless security shield to keep your devices safe. Price: $68.10
The Lodis Audrey Collection
is one of the few checkpoint-friendly laptop bags I came across that was made of leather, so it immediately gets extra points. (Plus, it comes in red!) It has a designated laptop-only section that lays flat on the x-ray belt. Price: $299
The Brenthaven Women's Prostyle-XF Shoulder Case is a great option for working professionals who need a simple, functional bag but want the added luxury of some style. My favorite part: the two front pockets to store smaller items such as your cell phone and keys. Price: $149.95
If you're the sporty type, check out this lightweight Harmony Laptop Sleeve
by Skooba, one of the first companies to ever design a TSA-approved laptop bag. All of Skooba's checkpoint-friendly bags are designed and tested in collaboration with the TSA. Price: $27.95
Artfully marketed as checkpoint-friendly, the McKlein Oak Grove Laptop Tote
bag really just has a checkpoint-friendly component. But it's stylish! A detachable laptop sleeve designed to make it through security is included inside the bag, so you still have the added step of removing it for scanning. Price: $119
NOTE: If you're in the market for a checkpoint-friendly laptop bag, it's a good idea to cross-check its components with the Transportation Security Administration guidelines for compliant laptop bags. That said, I should remind you that the airport security screening process can be random, so just because you have one of these bags doesn't mean that you won't be asked to remove your laptop. As many of the practical travelers told me, the bags usually do the job, but not always.
Jennifer Gaines is the senior travel editor for Spire, a new flash-sale travel site that specializes in limited-time hotel deals with added perks.
Discussion