5 Ways to Manage Your Home with a Smartphone
Techlicious editors independently review products. To help support our mission, we may earn affiliate commissions from links contained on this page.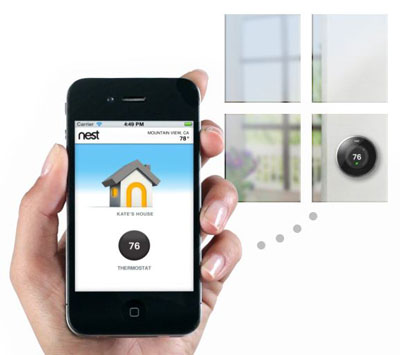 My smartphone is my Swiss Army knife. I use it for a hundred different things—making calls, playing videos and games, taking photos, and controlling my TV.
Now, a slew of new products are letting me use my smartphone to control the very house I live in. There's not yet an app that will let me order up "Tea. Earl grey. Hot." a la Captain Picard on Star Trek, but we're getting close.
Turn up the heat
You don't have to suffer the chill of a cold house to save on heating bills in the winter. With the Nest thermostat ($249 on Nest.com), you can turn the heat up remotely with your iPhone or Android phone so your home is just the right temperature when you arrive. Over time, Nest learns your habits so it can make adjustments automatically. It also has sensors built-in so it knows when your away and can go into energy-saving mode.
Check on Fido
Ever wonder what your pet does all day? You can check in anytime when you set up the Foscam FI8910W Wireless IP Camera ($94.67 on Amazon.com). You can log in to view video from your iPhone, Android phone or Blackberry, and even operate the camera—panning, tilting and zooming in on whatever catches your eye.
Turn on the Lights
Don't like coming home to a dark house? You can turn the lights on with your iPhone as you drive in the driveway with the Insteon Light Control Kit ($295.96 on Amazon.com
). In the box you'll find two SwitchLinc dimmers and on SwitchLinc switch and a plug for a lamp.
Unlock the front door
The Lockitron deadbolt ($295 on Lockitron.com) gives you one-touch door unlocking via it's iPhone app. And when your in-laws arrive early, there's no need to leave them waiting in the cold. You can text them a temporary key to your front door. If the power goes out, you can always enter the old-fashioned way with the included set of keys.
Open the garage door
Ever have that moment when you're second guessing whether you remembered to close the garage door? When you install a Craftsman AssureLink garage door opener ($289.99 on Crasftman.com) you can check and operate it from any phone with a web browser.
Discussion